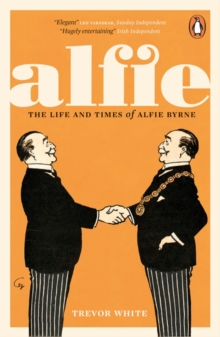 Alfie : The Life and Times of Alfie Byrne
Paperback / softback
Description
The first biography of the beloved long-time Lord Mayor of DublinAlfie Byrne was that rarest of things: a genuinely popular politician.
He is still a figure of legend in Dublin, where he was elected Lord Mayor ten times.
He was also a TD and a Senator; and only a backroom deal prevented him from contesting the race to become the first President of Ireland - a race he would have been favourite to win.
Rising from inner-city Dublin to become known as the 'Lord Mayor of Ireland', he was a truly remarkable figure. And yet there has never been a biography of Alfie Byrne - until now. Trevor White's sparkling book tells the story of a man of many parts and contradictions.
He was an urbane man of the world who left school at thirteen.
He was a teetotal publican. He was a Parnellite who opposed violence, but he was sympathetic to the Easter rebels.
His politics were fundamentally conservative, but he was deeply devoted to the poor of his native city. This is the story of an energetic young man who offered to lead his community and refused to stop governing for forty years.
His ambition and charm won admirers in the great cities of the world - and in the tenements of Ireland's capital.
At his best, he represented and encouraged a broader understanding of what it means to be Irish. And, through it all, he was a great personality, the living embodiment of Dublin. 'Not just the definitive biography of the definitive Dubliner, Alfie is a wonderfully written social, political and cultural history of the country through the capital's most famous son through a tumultuous half century.
At last, justice has been done to the legend that was Alfie Byrne.' Joe Duffy'Trevor White brings [Alfie Byrne] vividly to life in the pages of his elegant new biography' Leo Varadkar, Sunday Independent'White has found a deliciously rich seam to mine in Alfie Byrne ...
Byrne's Dublin is revived in glorious Technicolor, and with much affection.
It's a lively, boisterous, contradictory, occasionally maddening place, Much like the man himself, really.' Irish Times'Hugely entertaining ...
This is the first proper account of his life, and it's bolstered by White's access to Byrne's family papers' Irish Independent'Peppered with delectable anecdotes ...
Well researched and spryly written, this is an elegant account of one of our capital city's half-forgotten sons' Sunday Business Post'This enormously enjoyable biography doesn't seek to canonise Alfie, or to demonise him.
It does what all good biographies should, which is simply to tell us the protagonist's true story; and it does what all great biographies should do, which is to make that story a delight to read.' Irish Daily Mail'Alfie could easily have been a sentimental rags-to-riches story about the son of a docker who escaped Sean O'Casey's "long haggard corridors of rottenness and ruin" to become a minor power broker among the bankers and lawyers while living in a Dublin 6 pile.
Instead, White , who admires his quarry, doesn't pull punches when it comes to describing how the career of the genial Byrne eventually lost steam.' Sunday Times'Brilliantly told ... an inimitable portrait of Dublin for the forty-two years, 1914-56, that Alfie dominated the political scene' Cara'Trevor White has done today's citizenry some service in providing us with a balanced and well-researched account of the phenomenon that was Dublin's own Alfie Byrne' Dublin Review of Books
Information
Format: Paperback / softback
Pages: 272 pages
Publisher: Penguin Books Ltd
Publication Date: 03/05/2018
Category: Biography: general
ISBN: 9780241982457
Other Formats
EPUB from £4.99
Hardback from £15.15
Also by Trevor White