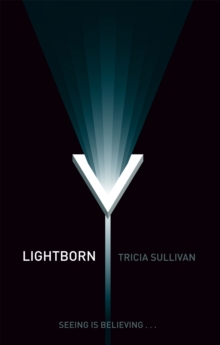 Description
Lightborn, better known as 'shine', is a mind-altering technology that has revolutionised the modern world.
It is the ultimate in education, self-improvement and entertainment - beamed directly into the brain of anyone who can meet the asking price.
But in the city of Los Sombres, renegade shine has attacked the adult population, resulting in social chaos and widespread insanity in everyone past the age of puberty.
The only solution has been to turn off the Field and isolate the city.Trapped within the quarantine perimeter, fourteen-year-old Xavier just wants to find the drug that can keep his own physical maturity at bay until the army shuts down the shine.
That's how he meets Roksana, mysteriously impervious to shine and devoted to helping the stricken.
As the military invades street by street, Xavier and Roksana discover that there could be hope for Los Sombres - but only if Xavier will allow a lightborn cure to enter his mind.
What he doesn't know is that the shine in question has a mind of its own . . .
Information
Format: Paperback
Pages: 464 pages
Publisher: Little, Brown Book Group
Publication Date: 01/10/2010
Category: Science fiction
ISBN: 9781841494074
Free Home Delivery
on all orders
Pick up orders
from local bookshops
Reviews
Showing 1 - 3 of 3 reviews.
Review by AlanPoulter
16/06/2015
We seem to be in major disaster territory. Things start to go bad on the 19th July 2004 when Roksana has a run-in with her family's Eastern Euopean au-pair and her father, an expert on 'shine', the use of light patterns ('lightborns') to program people's minds, goes missing. The story resumes again on July 17 2006 with Los Sombres, the town Roksana lives in, now under siege by the Army. There are occasional bombing raids, and incursions by military bots and soldiers, which try to capture people. Life, such as it is, goes on with the adult population seemingly enslaved by shine and following repetitive routines. Roksana becomes a one-woman radio station, Falln, making podcasts on the situation. This makes her a target for the forces trying to reclaim control of Los Sombres.Outside of Los Sombres a small community exists of refugees from Los Sombres and Indians from a reservation, the latter seeming to have more understanding of what is going as their tribal wisdom taps into shine. One new arrival might be Roksana's missing father. A member of this community, Xavier, whose mother is a shine victim, is approaching puberty, at which point he will become vulnerable to shine, and so he decides to risk a visit to Los Sombres to pick up supplies of a drug, with a street name of Kiss, which will inhibit this process. Xaiver mets Roksana in Los Sombres and the plot then starts chugging along till its end.But there are serious problems with this scenario. Why bother to give two specific dates, to presumably establish an alternate reality, when the two-year gap seems between the dates seems ridiculously long for the minor localised collapse described to endure? Why does the Army resort to such an incompetent and destructive response? Why is the Army used at all and not medical/police services? Shine, which seems to depend on optical connections, also seems to also involve AIs. Where do these come from and how do they relate to shine? How can shine possibly be related to Native Indian 'tribal wisdom'? And most importantly, why are the young not more susceptible to shine than old people, since their mental patterns are going to be much less ingrained and thus more mutable?Since chapters seem to be named after pop songs, the intent is clearly to idolise youth as the saviours of the old, who are zombified by disaster, which the 'old' military cannot understand and so try to blindly destroy. It is a shame that such lively writing is built on cliche.
Review by SChant
16/06/2015
Dull, dull, dull. Cardboard characters, confused plotting, too many coincidences. Couldn't be bothered to finish it.
Review by AdonisGuilfoyle
16/06/2015
This novel should have ticked all my sci-fi boxes - dystopian technology, cynical narrative and snarky humour - but after the first chapter, my attention started to drift. The plot was intriguing enough to keep me reading, yet ploughing through the 400 and so pages took far longer than usual.First of all, I must praise the concept of <I>Lightborn</I>, which is both creative and disturbing. Roksana Ansari is the teenage daughter of the technical wizard who developed, and is now hoping to conquer, lightborn, or shine, an AI-based technology which beams information and even emotions directly into the brain. 'Shinies' are the tech-addicts of the future, who can no longer think or act for themselves. When the lightborn AI evolves beyond its functional parameters, and out of the control of its creator, the city of Los Sombres enters 'the Fall' and all hell breaks loose. I absolutely loved the very realistic world-building and detail of this alternate reality, and both Roksana and Xavier, the 'pure' teenage survivor come saviour of Los Sombres, are engaging characters. I should have been able to fly through the pages in a day or two, but just couldn't muster the right level of enthusiasm. Perhaps the switch from Roksana in the opening chapter to Xavier in the following pages was a bit of a comedown, or the technobabble and dystopian philosophy grew too overwhelming at times, but I could only manage a few chapters at a time. Good but not great.