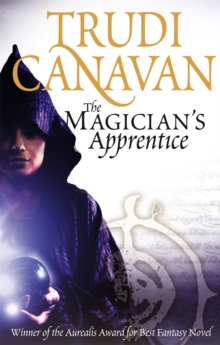 The Magician's Apprentice
Paperback
Description
In the remote village of Mandryn, Tessia serves as assistant to her father, the village Healer - much to the frustration of her mother, who would rather she found a husband.
But her life is about to take a very unexpected turn.When treating a patient at the residence of the local magician, Lord Dakon, Tessia is forced to fight off the advances of a visiting Sachakan mage - and instinctively uses magic.
She now finds herself facing an entirely different future as Lord Dakon's apprentice. But along with the excitement and privilege, Tessia is about to discover that her magical gifts bring with them a great deal of responsibility.
Events are brewing that will lead nations into war, rival magicians into conflict, and spark an act of sorcery so brutal that its effects will be felt for centuries . . .
Information
Format: Paperback
Pages: 752 pages
Publisher: Little, Brown Book Group
Publication Date: 01/03/2010
Category: Fantasy
ISBN: 9781841495903
Other Formats
EPUB from £4.99
CD-Audio from £12.59
Free Home Delivery
on all orders
Pick up orders
from local bookshops
Reviews
Showing 1 - 4 of 4 reviews.
Review by reading_fox
16/06/2015
Average. An interesting enough prequel to the Black Magician trilogy. Set almost 200 years earlier, it explores some of the backstory to the trilogy - specifically the founding of the Guilds and the creation of the Sachcian wastelands.Slightly disconnected, we jump about between a few characters, the main heroine being one Tessa, not quite of servant class, who discovers she has magical potential, and becomes a Magician's Apprentice. Meanwhile over in Shacia iteself a daughter returns home to be married, and a few othree incidental characters get bit parts. As Tessa is being taken to meet the king some rogue Sachians invade, destroying her village. And so the Kyrillians must resort to magic to defend themselves.It has very much the same feel as the earlier books which is good - and bad, as it isn't any better either. The world pre-Guild is slightly interesting but not much. Most bizzare is the entire Sachian wife sub-plot, which doesn't really fit in with the rest of the novel at all. I'm still not sure why it there. Trudi's annoying habit of renaming familiar creatures at least didn't extend to the horses this time.Readable, and worthwhile if you enjoyed the original series, but without the darker undertones it's nothing special.TBC
Review by Elphaba71
16/06/2015
This books is a stand-alone prequel set 200 years before The Black Magician Trilogy.Amazing! This is my first taste of Trudi Canavan's work. I picked it upon The Black Magician Trilogy being recommended to me by a friend. The book is wonderfully written, with very well described and very believable characters. I immediately took to Tessia the main character, she is a talented young Kyralian girl. When we meet Tessia she is assisting her father in his healing duries in the village of Mandryn. It is here while tending to a visiting Sachakan Magicians slave that Tessia has natural magical powers. Tessia is taken on as Lord Dakon's second apprentice. Jayen the first apprentice is non to keen on this to begin with..........In all I found this book a real gripping read from start to finish, I was quite suprised to find such mixed reviews on it.
Review by MikeFinn
16/06/2015
I've been s fan of Judi Canavan since I read the first page of " The Magician's Guild" back in 2004. It is still one of my favourite fantasy books. I loved the passion of the characters, the originality of the idea and the rigorous realization of the world it described.I followed her eagerly through "Novice" and "High Lord" becoming more and more absorbed in the fate of her characters and the texture of her world.I bought "Priestess of the White" the first of her "The Age Of Five" trilogy in hardback in 2006 and just couldn't get in to it. I think perhaps that I lacked empathy with the idea of serving Gods."The Magician's Apprentice" returned me to a world I found more accessible. The grand sweep of the story is impressive, the world is convincing and original and the characters are real people.For me, the best parts of this book is the growing relationship between the two young magician's apprentices. I found myself caring what happened to them and being moved by the way they behaved. I also really admired the way Trudi Canavan avoids having clear black and white distinctions between good guy and bad guys. I think she has a very cleat view of what is evil and what is good but she recognizes that most of us have the capacity to be both. She also gave a great insight into the nature of slavery and freedom and the degrees of difference we experience between total freedom and none at all.I gave the book only three stars because I felt that the structure could have been tighter. The middle section of the book wallows a little in a realistic but tedious start to a conflict. The end of the book moves too quickly away from the personal and intimate to the historic and world-changing.The book introduces a new set of players in the world: "The Traitors".They are the focus of Trudi Canavan's current trilogy which I currently have on order.
Review by Elysianfield
16/06/2015
Tessia is the village healer's daughter and has nearly an obsession with healing. After an incident in Lord Dakon's house She shows that she has magic and her life is gonna change forever. Lord Dakon takes her as his apprentice and his other apprentice, Jayan, is none too happy about it. And soon Kyralia is being invaded by Sachaka, a neighbour country, who gave them their independence. <br/><br/>The other story follows a Sahaka woman named Stara who finds herself married because she has to get pregnant and her sister-in-law's life depends on it. <br/><br/>I truly enjoyed this book! I loved the relationship between Tessia and Jayan. Jayan is from noble family and first thinks Tessia as simple peasant and is jealous about the time Dakon takes teaching her. I loved how they're relationship changed with time and develops into friendship.<br/><br/>I thought it was interesting how the magician's must obtain more power from the apprentice's and aren't all powerful once getting to certain level. <br/><br/>The only complain I have is that while I liked Stara and the story, I thought it was quite unnecessary. It was more like two completely different storys. Stara met Jayan and Tessia once for like 3 seconds and that was it. But it was kinda refreshing to move to other story for awhile. <br/><br/>I think it would have helped if I had read her other books before but it can stand as a stand alone.