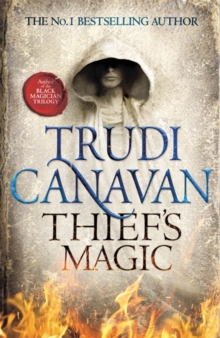 Thief's Magic : Book 1 of Millennium's Rule
Hardback
Description
Discover this powerful and thrilling adventure from international No.1 bestselling author Trudi Canavan.SOMETIMES MAGIC LIES WITHIN . . .When the young student Tyen unearths an ancient book, it opens the door to a realm of mystery and danger.
For it contains a clue to a disaster threatening the world.Elsewhere, in a land ruled by priests, Rielle has been taught that to use magic is to steal from the Angels.
Yet she has a talent for it, and desperate times may force her to risk the Angels' wrath.But not everything is as Tyen and Rielle have been raised to believe.
Not the nature of magic - and not even the people they trust.Escape to a new world.Discover the magic of Trudi Canavan.
Information
Format: Hardback
Pages: 560 pages
Publisher: Little, Brown Book Group
Publication Date: 15/05/2014
Category: Fantasy
ISBN: 9780356501109
Other Formats
Paperback from £7.85
EPUB from £4.49
Free Home Delivery
on all orders
Pick up orders
from local bookshops
Reviews
Showing 1 - 1 of 1 reviews.
Review by reading_fox
16/06/2015
Pretty much a standard Canavan, a start on a new series. Quite fun as usual, but also somehow a little trite, with not much being said. Good holiday reading! We follow two characters on two different worlds, but both share the same magic system, so there's always a chance they'll meet at some point. Reili is a young girl in a restrictive social state, wears headcovering attends church and likely to have an arranged marriage for the good of the family. Magic is the exclusive domain of the priesthood, carefully doled out when essential and the Stain of it's use removed by careful cleansing rituals. Reili is a careful to never let on that she too can see the Stain. Tynron is a fairly polar opposite although equally young, he's a student at the Acadamy mixing magic and History hoping to make a name for himself on expeditions finding useful/expensive artefacts. Magic is an everyday use to him and his society powering great machines and leaving only a trace of Soot behind. He does find a book of wisdom, being the incarnation of a minor sorceress from another world, imprinted with the knowledge of anyone who's held her, including the most powerful sorcerer Tyron's world has ever seen. The Academy doesn't trust such powerful magic however. As ever with Trudi, there's an odd thing going on with names, these characters sound quite a lot similar to those in Age of Five, even though it's a completely different series/universe. She's also done her thing of re-naming a few common objects into different ones, despite leaving most of them the same. And perhaps luckily for her, the experience of Reili living poor rings very very untrue. When you're struggling to make ends meet, you can't just casually stop at a cafe for a drink. Even if you're tired and thirsty. Literally every penny counts, and Reili just doesn't behave like that. But otherwise the characterisations are generally engaging as Trudi normally manages. But the world always seems just a little bit trite, and even when things are going wrong, they never quite seem to be serious.But it's fun. and I'm sure I'll read the rest in due course.
Also in the Millennium's Rule series | View all