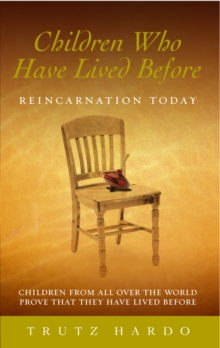 Children Who Have Lived Before : Reincarnation today
Paperback / softback
Description
In this book, children from all around the world remember their past lives, and eminent scientists explain how many of these children's stories have been followed up to verify whether their statements have any foundation in fact.
Incredibly, when subjected to scientific investigation, children's memories about their past lives can invariably be confirmed in every detail. Supported by overwhelming scientific evidence, the children's stories in this book suggest that reincarnation is a reality for us all.
Whether they are from England, Europe, the USA, Lebanon, South Africa, Israel, India, Brazil, Sri Lanka or Turkey, children who have lived before offer us insights into our global future, as well as profound messages from our collective past.
This book is a must for anyone interested in the subject of reincarnation. '[Trutz Hardo presents] convincing evidence on reincarnation that will even give the toughest sceptic much to think about. I hope that finally many readers will learn the truth of reincarnation' Elizabeth Kubler-Ross, author of 'On Death and Dying'
Information
Format: Paperback / softback
Pages: 256 pages
Publisher: Vintage Publishing
Publication Date: 04/08/2005
Category: Reincarnation & past lives
ISBN: 9781844132980