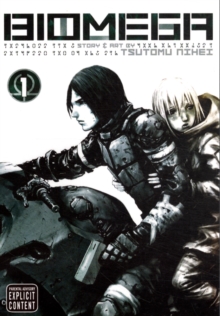 Biomega, Vol. 1
Paperback
Part of the Biomega series
Description
In Tsutone Nihei's nightmare vision of the future, the N5S virus has swept across the earth, turning most of the population into zombie-like drones.
Zoichi Kanoe, an agent of Toa Heavy Industry, is humanity's last hope, and he's not even human!
With the help of Fuyu, a digitized intelligence built into the computer system of his Heavy Dual Coil motorcycle, Zoichi's search for the key to salvation will take him on a journey across surreal landscapes and hurl him into battle against mind-bending evil.
Prepare yourself for the ultimate trip - prepare yourself for the world of BIOMEGA.
Information
Format: Paperback
Pages: 220 pages
Publisher: Viz Media, Subs. of Shogakukan Inc
Publication Date: 02/02/2010
Category: Manga
ISBN: 9781421531847
Free Home Delivery
on all orders
Pick up orders
from local bookshops
Reviews
Showing 1 - 3 of 3 reviews.
Review by ElizaJane
16/06/2015
Reason for Reading: Apocalypse? Virus? Zombies? How could I *not* want to read it?Comments: First off this book is a little larger in length and width than the usual manga which really enhances the superb artwork. Done in very detailed black ink the artwork tells the story for much of the book. There are a lot of wordless panels, especially in the first half where words are very seldom used and only sparsely when needed. There are many scenes which look down upon a city or place and these are truly stunning, some of the best artwork I've seen in a manga. There is a lot of violence but it's all of the kind you'd expect to see when zombies are being shot at and blown to pieces plus a small bit of language, thus the manga has an "M" rating.The story in this first volume is brief. The outline of what is going on and who our main characters are is introduced and one gets a bit of a feel for them. By the end of the book slight revelations have been made and we know the end of the world is imminent. There is one character whom not much information has been given and I found, shall we say, quite interesting, by the name of Kozlov who is a large talking grizzly bear who seems to be trying to protect Eon Green and I find myself most compelled by him at the moment.I definitely have a sense of the story here but I'm not big on wordless graphics, even though this does contain enough bubbles to tell some story. I personally do need more. At this point, I'm going to wait for Volume 2 before deciding whether this is a series I want to follow. If you like Apocalyptic stories, lots of zombie and motorcycle action with a grizzly bear thrown in for good measure you may want to give this one a try.
Review by BrynDahlquis
16/06/2015
I'm honestly not sure how I feel about Biomega Vol. 1. I feel it has potential, but not much has happened. There's very little dialogue, and some of the art makes it difficult to understand exactly what's happening.I also have no idea about the bear.Despite this, I have a soft spot for zombies and the story is intriquing. I'm looking forward tot he second volume.
Review by CaliSoleil
16/06/2015
Beautiful, beautiful art. Over the top story... but I definitely want more!