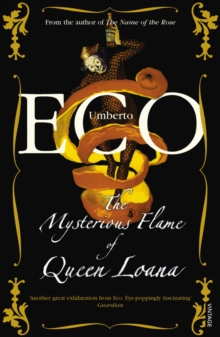 The Mysterious Flame Of Queen Loana
Paperback
Description
In this fascinating, abundant new novel from the incomparable Eco, Yambo, a rare-book dealer, has suffered a bizarre form of memory loss.
He can remember every book he ever read but nothing about his own life.
In an effort to retrieve his past, he withdraws into his old family home and searches through boxes of old newspapers, comics, records, photo albums and diaries kept in the attic. And so Yambo relives his youth: Mussolini, Catholic education, Josephine Baker, Flash Gordon, Fred Astaire.
His memories run wild, and life racing before his eyes takes the form of a graphic novel.
Yambo struggles through the flames to capture one simple, innocent image, that of his first love.
Information
Format: Paperback
Pages: 464 pages
Publisher: Vintage Publishing
Publication Date: 01/06/2006
ISBN: 9780099481379
Free Home Delivery
on all orders
Pick up orders
from local bookshops
Reviews
Showing 1 - 3 of 3 reviews.
Review by leore_joanne
16/06/2015
[close] I expected a lot from this book when I bought it, and I have to say that I was quite dissappointed. I liked the lead character a lot, and the offset for the plot was excellent, but it seemed to me that he (Eco)didn't play around enough with all the possibilities which his character's situation allowed. At Solara, the idea of trying to recover his history by surrounding himself with his childhood things was very appealing to me, but at some point I got sick of rummaging through old vinyl discs and stamp collections with him. I enjoyed the stories about the books, but these too grew old after a while. Though it was interesting to learn about Facist Italy from the perspective of a boy. *spoiler* I liked the "twist" (since it's not really a twist), when he found the old book, had a stroke and started floating amongst his memories again. It was very satisfying to finally understand who he is, and where he comes from. But what wasn't satisfying was the ending. The idea of all the characters from the comics and books which inhabited his life to come to him in his final moments is charming, but it also left me with a sour taste in my mouth, since the author left all the ends rather loose. I still would like to know what happened with the book he found. Highlights - Gragnola (I think that was his name) and his long speech about why god is a facist sent me hollering. Also, Yambo's musing about whether he's dreaming, or dreaming of dreaming, or perhaps just existing in a sort of suspended state, as just a brain floating in fluid into whom someone sends images as he wishes. Reminded me of the 'Matrix'. So to sum it up - I wasn't too thrilled by this book, though it had its' moments. Quote: "By war's end I had learned a great deal, not only how babies are born, but also how jews die". 7.5.07
Review by grero
16/06/2015
Umberto Ecco is one of my favourite authors and this book follows the others I've read by being brilliant, thoughtful, intricate and beautiful. The book is a testament to the fascist era of Italian history, but more than that an absolutely fascinating account of how ones own life might look when you yourself become a third party observer of it. As always, Ecco manages to create a wonderful mix of science, philosophy, psychology and history in an insightful and engaging story.
Review by Eyejaybee
16/06/2015
As is always the case with Umberto Eco's books, this novel is intriguing and challenging, and requires considerable effort from the reader, though it does offer extensive rewards in return for that commitment. Essentially it recounts the experiences of Yambo, a seller of antiquarian books, who, as the novel opens, has suffered a serious stroke and,as a consequence, has lost his autobiographical memory. However, while he can remember nothing of his early life, he does remember, in considerable (almost exhaustive0 detail every book that he has ever read. Having been released from hospital he and his family attempt to find something with which to trigger the return of his memory. To that end his wife sends him of to his childhood home (still owned by the family and used as a summer retreat). While there he delves through a veritable treasure trove of artefacts stored in the capacious attics. He gradually starts to reconstruct a framework for his childhood and adolescence, set against the inner turnoil suffered by italy as the experiment with fascism under Mussolini proved to have been a terrible mistake. And then he finds something quite exceptional at the bottom of a hitherto overlooked casket ... and triggers a further "episode".The book is beautifully illustrated with pictures of comics, records and journals from the 1930s and 1940s, and Eco uses these as a hook on which to hang a beguiling social and political history of Italy during the build up to, and immediate aftermath of, the Second World War. Unfortunately I felt that it went on for rather too long, and I gradually lost any empathy for Yambo and his plight.