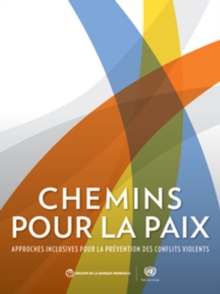 Chemins Pour la Paix : Approches Inclusives Pour la Prevention des Conflits Violents
Paperback / softback
Description
Since 2010, the number and intensity of violent conflicts have increased rapidly.
The human and economic costs associated with violent conflict are massive, affecting long-term stability and prospects for economic development and poverty reduction.
Today's violent conflicts are protracted and recurring, often part of complex regional conflict systems.
They affect countries at all income levels and are marked by increasing international interference.
This creates a new urgency for improving national and international approaches to prevention.
Conflict takes place in all societies and is an inherent part of human interaction.
Societies are able to manage most conflicts peacefully.
But prevention requires approaches and efforts not limited to managing the crisis, but also fostering an economic, social, and political environment that addresses the dynamics and root causes of violent conflict.
This joint study by the United Nations and the World Bank uses innovative analyses and systematic review of what has and has not worked, and aims to improve our understanding of how domestic development processes interact with international security, diplomatic, humanitarian, justice, and human rights efforts to prevent conflict from becoming violent.
The report identifies critical areas that countries can address to become more peaceful.
Information
Format:Paperback / softback
Pages:368 pages
Publisher:World Bank Publications
Publication Date:30/09/2020
Category:
ISBN:9781464813320