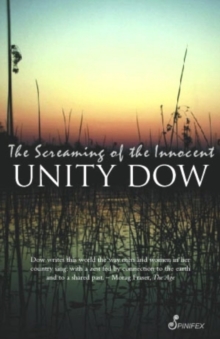 The Screaming of the Innocent
Paperback
Information
Format: Paperback
Pages: 215 pages
Publisher: Spinifex Press
Publication Date: 01/02/2002
ISBN: 9781876756208
Free Home Delivery
on all orders
Pick up orders
from local bookshops
Reviews
Showing 1 - 3 of 3 reviews.
My partner is wary whenever I start a Unity Dow book. I cry and cry and cry. Such clear writing, such evocative images and such awful stories.
Review by bsquaredinoz
16/06/2015
The Screaming of the Innocent is set in the author's native Botswana and tells a harrowing tale about a young girl who goes missing, the men who are responsible and the ease with which they engineer a cover up of their actions. The girl is 12 years old and one day she is spotted playing with her friends by a local businessman, Mr Disanka, which seals her unfortunate fate. He calls upon two men he knows who share his heinous interests and together they plan what they'll do with the girl. Although at this point there is no graphic depiction of what is done to the girl, the passage in which this odious individual, who is thought to be a good man despite his many mistresses and other moral lapses, identifies the girl as 'perfect for his purposes' quite literally made my skin crawl.<br/><br/>We then jump forward five years and meet Amantle Bokaa, a young woman in her 20s, as she begins an internship at the clinic in the same village from which the girl disappeared. When carrying out some cleaning at the clinic Amantle finds a box marked Neo Kakang: CRB 45/94 and when she tracks down the village resident who shares the name Kakang the box is opened to reveal a set of blood-stained clothes. The villagers, including Motlatsi Kakang, are stunned because the clothes clearly belong to Molatsi's daughter Neo who went missing five years earlier. They were told at the time by police investigators that the girl had been killed by lions. Amantle, being a remarkably strong young women, then takes it upon herself to uncover the facts behind Neo's disappearance and what she soon realises must have been the official cover up of those facts.<br/><br/>The subject matter of this book is undoubtedly dark but, because it is based on a real case of ritual killing, there is a purpose to that darkness. This is not gruesome violence for the shock value of it like so many 'thrillers' contain these days; this is actually quite a restrained depiction of events which will keep occurring in the real world unless they are exposed in this way. But perhaps the most important thing to know is that despite the utter wretchedness of many of the events in the book there is a sense of optimism and hope too. The introduction of Amantle and the friends she co-opts to her cause is a master stroke on the part of the author, allowing the reader to imagine the possibility of a brighter future for Botswana and its poor people, especially its women.<br/><br/>For Amantle is a delightful character who, as the youngest of seven children in a traditional Botswanan family, was selected to be the first one who would go to school. We learn via flashback some of Amantle's personal history and it becomes clear how she developed into such a smart and resourceful young lady who is prepared to stand up for herself and those she identifies cannot do so for themselves. She is not entirely alone, engaging the help of a young female lawyer friend who in turn ropes in another chum or two and you get the sense that the author sees these young people as a big part of her country's future.<br/><br/>This is one of those books that oozes its setting, both physical and psychological, from every page. The traditional values which are increasingly at odds with modern thinking, the entrenched poverty, the heavily hierarchical social structure in which women at each layer have to struggle more for their share of what is in offer are all present. But so are the beauty of the landscape, the strong sense of community that develops among the rural villages and even, albeit briefly, some flashes of humour such as when the young people have to spend a night camping and the city-living lawyer is terrified they will all be eaten by lions.<br/><br/>If the book had depicted only a single note of despair and sadness I would, I think, hesitate to recommend it but knowing that it also contains the seeds of reason to be optimistic I do think it's well worth reading. It is emotionally harrowing (the ending particularly so) but not gratuitously so and, on balance, I am glad that I read the book, despite the sadness and sense of impotent outrage it engendered.<br/><br/>My rating 4.5/5
Review by Bagpuss
02/03/2016
Part of my 'long-term world challenge', this book is set in Botswana, where the author was born. Unity Dow is a High Court judge and a human-rights activist who has helped to affect real change in her native country.<br/><br/>The novel opens with a snapshot of the life of successful local businessman Mr Disanka. He has a wife whom he loves, and a mistress who he loves equally. He has children who he spoils, especially his youngest, a daughter on whom he showers affection - and food - making her a somewhat chubby child. Mr Disanka is watching a group of children playing but his reasons for doing so are not what the reader might immediately imagine.<br/><br/>The action moves forward five years to a young woman called Amantle Bokaa. Amantle is the first person in her family to receive a proper formal education and she wishes to become a doctor. Before she can do this, she has to take part in a compulsory 'national service' scheme and finds herself sent to a remote village to work in the health clinic. Feeling very positive about the job, she soon finds that the two nurses in charge are less than enthusiastic about their jobs and the health centre, and rather than teach Amantle anything they make her tidy out the store cupboard. There she finds the box which is to change everything.<br/><br/>Frustrated by the lack of information or action on the part of the police, who appear to be closing ranks, she determines to get to the bottom of what the box means - and what happened to young Neo.<br/><br/>This is the second book I've read recently set in Africa, both of which have been impulse reads and both of which have been excellent. Unity Dow really knows how to write, and the reader is taken not only through the story of Neo's disappearance, but of Botswana's culture, and is absolutely fascinating.
Also by Unity Dow