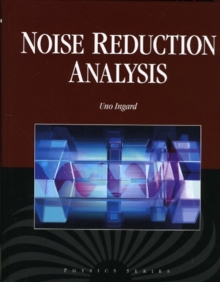 Noise Reduction Analysis
Hardback
Description
Written by a noted authority in the subject area, this book is a comprehensive study of the theory and practical application of noise reduction to numerous fields.
It may be used as a reference by scientists and engineers or in a senior-undergraduate or graduate-level course.
The first six chapters deal with the basic mechanisms of sound absorption by which acoustic energy is converted into heat in viscous and thermal boundaries in a sound field.
The second part covers duct attenuators with a discussion of how their performance is described and measured.
The main part of each chapter is planned to be descriptive, and contains numerical results that should be of direct interest for design work.
Mathematical analysis is placed at the end of the chapters.
Information
Format: Hardback
Pages: 452 pages, Illustrations
Publisher: Infinity Science Press
Publication Date: 30/09/2008
Category: Acoustic & sound engineering
ISBN: 9781934015315