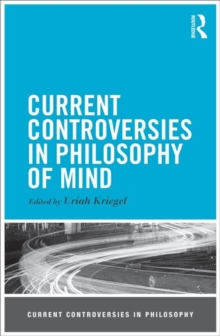 Current Controversies in Philosophy of Mind
Paperback / softback
Description
Philosophy of mind is one of the most dynamic fields in philosophy, and one that invites debate around several key questions.
There currently exist annotated tomes of primary sources, and a handful of single-authored introductions to the field, but there is no book that captures philosophy of mind's recent dynamic exchanges for a student audience.
By bringing compiling ten newly commissioned pieces in which leading philosophers square off on five central, related debates currently engaging the field, editor Uriah Kriegel has provided such a publication.The five debates include: Mind and Body: The Prospects for Russellian MonismMind in Body: The Scope and Nature of Embodied CognitionConsciousness: Representationalism and the Phenomenology of MoodsMental Representation: The Project of NaturalizationThe Nature of Mind: The Importance of Consciousness. Preliminary descriptions of each chapter, annotated bibliographies for each controversy, and a supplemental guide to further controversies in philosophy of mind (with bibliographies) help provide clearer and richer views of active controversies for all readers.
Information
Format: Paperback / softback
Pages: 256 pages, Follow Debates in Modern Philosophy (medium template)
Publisher: Taylor & Francis Ltd
Publication Date: 11/09/2013
Category: Philosophy of mind
ISBN: 9780415530873
Also in the Current Controversies in Philosophy series | View all