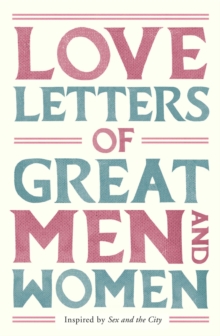 Love Letters of Great Men and Women
Paperback
Description
From the private papers of Jane Austen and Mozart to those of Anne Boleyn and Nelson, Love Letters of Great Men and Women collects together some of the most romantic letters in history.
For some of these great men, love is a 'delicious poison' (William Congreve); for others, 'a nice soft wife on a sofa with good fire, & books & music' (Charles Darwin).
Love can scorch like the heat of the sun (Henry VIII), or penetrate the depths of one's heart like a cooling rain (Flaubert).
But what about the other side of the story? What of the secret hopes and lives of some of the greatest women in history?
Taken together, these love letters show that perhaps little has changed over the last 2,000 years.
Passion, jealousy, hope and longing are all represented here -- as is the simple pleasure of sending a letter to, and receiving one from, the person you love most. Includes letters by: Anne Boleyn * Beethoven * Edith Wharton * Mark Twain * Mary Wordsworth * Nell Gwyn (mistress of Charles II) * Elizabeth Barrett Browning * GK Chesterton * Queen Victoria * Napoleon Bonaparte * The Empress Josephine * Mary Wollstonecraft * Amadeus Mozart * Katherine Mansfield Praise for Love Letters of Great Men: 'The most romantic book ever' Daily Mail 'Inspired by the Sex and the City movie...Famous men caught with pen in hand and heart in mouth' The Times
Information
Format: Paperback
Pages: 300 pages
Publisher: Pan Macmillan
Publication Date: 01/01/2010
Category: Diaries, letters & journals
ISBN: 9780330515139
Free Home Delivery
on all orders
Pick up orders
from local bookshops
Reviews
Showing 1 - 1 of 1 reviews.
Review by sunnycouger
16/06/2015
I cannot overstate how much I enjoyed this. I really almost want to go through it with a highlighter and marking passages and quotes. I'm a hopeless romantic, it's true so it was always going to appeal but in the collection we have letters from authors, leaders, politicians, composers, scientists and monarchs. We have Henry the VIII sending a portrait of himself as a sign of his affection to Anne Boleyn, and Anne Boleyn sending a letter back to him years later as she's imprisoned. We have Queen Victoria writing to Prince Albert making sure he was aware of his place in life before they were married, and then another where she wrote to King Leopold utterly heartbroken after Albert died. There is Beethoven's famous letters to his 'Immortal Beloved' and letters from famous womanisers like Lord Byron and Robert Burns.<br/><br/>Not all the stories are about happily ever after and a shocking number of letters are addressed to mistresses and bit's on the side, but some of the most beautiful moments comes from guys like Nathaniel Hawthorne (this entries title is from the beginning and end of his letter to his wife), or Robert Browning (who refused to marry for the remainder of his life and spent the last 28 years of his life alone because 'his heart was buried in Florence'), or Mozart who spent his letters teasing and joking with his wife.<br/><br/>It's just a beautiful book that I'm already trying to resist re-reading just because I need to get back on track in terms of churning out the books a little quicker.