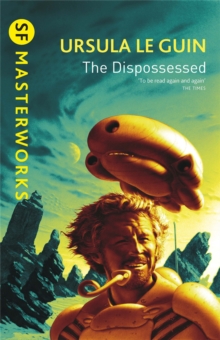 The Dispossessed
Paperback
Description
The Principle of Simultaneity is a scientific breakthrough which will revolutionize interstellar civilization by making possible instantaneous communication.
It is the life work of Shevek, a brilliant physicist from the arid anarchist world of Anarres. But Shevek's work is being stifled by jealous colleagues, so he travels to Anarres's sister-planet Urras, hoping to find more liberty and tolerance there.
But he soon finds himself being used as a pawn in a deadly political game.
Information
Format: Paperback
Pages: 336 pages, maps
Publisher: Orion Publishing Co
Publication Date: 01/08/1999
Category: Science fiction
ISBN: 9781857988826
Free Home Delivery
on all orders
Pick up orders
from local bookshops
Reviews
Showing 1 - 5 of 12 reviews.
Previous | Next
Review by mouton-rouge
16/06/2015
Alien anarchists. My favourite Le Guin novel.
Review by trixtah
16/06/2015
This is the book that made me go "aha!" with regard to my favoured political philosophy. There is LeGuin's usual sparse but elegant prose, some of the best characters for one of her earlier works, and I love the fact that the anarchist society is not represented as some perfect utopia. There are "good" and "bad" people on both the anarchist and the capitalist worlds - another echo of LeGuin's Taoist philosophy.
Review by miketroll
16/06/2015
Classic Ursula le Guin sci-fi, distinguished both by the quality of her writing and the power of her imagination. Humour is not her forte, but the strenghth of her ideas more than compensates for that lack.
Review by Whaddney
16/06/2015
I found this a thought-provoking exploration of an anarchist society eking out a marginal existence on a desert moon. Shevek, a theoretical physicist, is researching a theory of time counter to the prevailing orthodoxy. Le Guin uses his struggle to explore some of the ways in which anarchism can lead to conformity and a suppression of individual freedom. That said, I was left with the distinct feeling that there were levels to this book that I didn't comprehend or simply missed entirely. That's the sign of a good book to me!
Review by marek2009
16/06/2015
This is a subtle exploration of how the individual operates in various political contexts, how disillusionment sets in, and how hard it is to adapt to new surroundings and systems. It is one of the best Sci-Fi novels I've read in a long time.
Also in the S.F. Masterworks series | View all