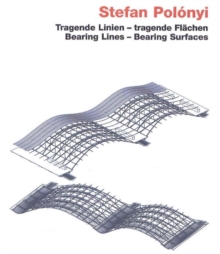 Stefan Polonyi : Bearing Lines - Bearing Surfaces
Hardback
Description
Text in English & German. Since the 1950s Stefan Polonyi has realised a large number of buildings of all kinds from his Cologne office, working with famous architects all over the world.
In his view, load-bearing structure, form and function have to form an indissoluble entity, and thus create an aesthetic appearance: beauty feeds on structural consistency.
Very few civil engineers have made claims of this kind.
Architects who have worked with Polonyi see this ambitious claim as something that has enriched their own design process.
First of all Polonyi, working with Josef Lehmbrock and Fritz Schaller, developed bold folded structures and shells for church buildings, and this at a time before statical calculations were not done by computer, but a lot of things still had to be tried out in model form.
Polonyi co-operated closely with Oswald Mathias Ungers on the Galleria for the Frankfurter Messe, among other projects. He made the flying roof for Axel Schultes' Kunstmuseum Bonn possible, supported by a row of irregularly placed columns, and also the undulating metal ceiling in the auditorium of Rem Koolhaas' Nederlands Dans Theater and the umbrella-like roofing for the approach tracks in Cologne's main station.
Polonyi's bridges, built from the 1990s in the Ruhr District, have become landmarks in the meantime with their red curved tubes as a structural and aesthetic element.
Today he creates his bridges as buildings over the river, so-called Living Bridges.
Polonyi's wide range of professional experience had a considerable bearing on his teaching at Berlin and Dortmund Technical Universities.
Working with architects Harald Deilmann and Josef Paul Kleihues, Polonyi established the "Dortmund Model for the Building Sciences".
It provides joint training for architects and civil engineers in a single faculty.
The present book is appearing to accompany the exhibition of the same name in the "Dortmunder U".
The essays address specific aspects of Polonyi's work. So Karl-Eugen Kurrer and Ulrich Pfammatter look at the development of structural analysis and the resultant distinction drawn between the professional territories of the civil engineer and the architect.
Patrik Schumacher, partner in Zaha Hadid's practice, represents a current position in terms of co-operation between the two disciplines.
Katrin Lichtenstein's account of the Dortmund Model and Atilla Otes' view of the current study situation consider the effect on training and teaching.
Sonja Hnilica analyses the folding systems and shells in the church projects, and Polonyi presents his bridges, including the designs for the Living Bridges.
Information
Format: Hardback
Pages: 156 pages, 151, 30 black & white illustrations, 8 colour illustrations, 42 black & white halftones,
Publisher: Edition Axel Menges
Publication Date: 14/05/2012
ISBN: 9783936681581
Free Home Delivery
on all orders
Pick up orders
from local bookshops