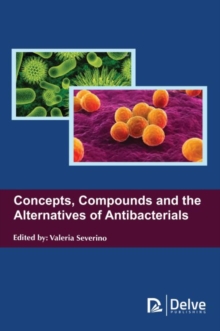 Concepts, Compounds and the Alternatives of Antibacterials
Hardback
Description
Concepts, Compounds and the Alternatives of Antibacterials examines various aspects of Antibacterial Drugs - From Basic Concepts to Complex Therapeutic Mechanisms of Polymer Systems, including an extensive overview of antibacterial drugs.
It includes Antibacterial Effects of Cinnamon: From Farm to Food, Cosmetic and Pharmaceutical Industries, Bactericidal Properties of Plants-Derived Metal and Metal Oxide Nanoparticles (NPs), Unique Features and Anti-microbial Targeting of Folate- and Flavin-Dependent Methyltransferases Required for Accurate Maintenance of Genetic Information.
Provides the reader with insights into the development of its history, so as to understand the Antibacterial Hydrogels, Evaluation of meso-substituted cationic corroles as potential antibacterial agents, Antibacterial, Hydrophilic Effect and Mechanical Properties of Orthodontic Resin Coated with UV-Responsive Photocatalyst, Comparison of antibacterial activity of alexidine alone or as a final irrigant with sodium hypochlorite and chlorhexidine.
Information
Format: Hardback
Pages: 425 pages
Publisher: Arcler Education Inc
Publication Date: 01/12/2018
Category: Science: general issues
ISBN: 9781773615233