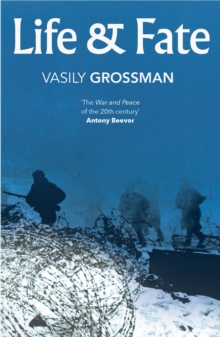 Description
Life and Fate is an epic tale of a country told through the fate of a single family, the Shaposhnikovs.
As the battle of Stalingrad looms, Grossman's characters must work out their destiniesin a world torn by ideological tyranny and war.
Completed in 1960 and then confiscated by the KGB, this sweeping panorama of Soviet Society remained unpublished until it was smuggled into the West in 1980, where it was hailed as a masterpiece.
Information
Format: Paperback
Pages: 896 pages
Publisher: Vintage Publishing
Publication Date: 05/10/2006
Category: Second World War fiction
ISBN: 9780099506164
Other Formats
Paperback from £9.15
EPUB from £4.99
eAudiobook MP3 from £11.02
Free Home Delivery
on all orders
Pick up orders
from local bookshops
Reviews
Showing 1 - 5 of 6 reviews.
Previous | Next
Review by the.ken.petersen
16/06/2015
Rossini is famously quoted as saying, "Mr. Wagner has beautiful moments but bad quarters of an hour." That summarises my opinion of this book. It is far too long and unremittingly morose but, just when one thinks enough is enough, along comes a gem of an insight into what it probably was like to be at the cutting edge of the Siege of Stalingrad. My main criticism is that, although the proletariat populate the edges of this book, the story is that of the bourgeoisie. I would love to know what the ordinary bloke in the street felt about the war and the rise of Lenin. I suppose that the position of writer automatically means that one gravitates to the chattering classes and that one can, therefore, never get that perspective and Mr Grossman is far from the only writer guilty of this sin.Grossman paints a picture of a Russian people who are desperate to do all they can to remove the threat of Fascism but, are pessimistic about the form of Communism that Stalin is bringing to their own country. Time after time, good party members are arrested on the word of some sycophantic popinjay. I am sure that there were examples of this - just as one can find situations where people receive false justice in the West, because of their wealth or power. I find it difficultto believe that however large the country, any state could become as powerful as Russia, were it to be so incompetent.This book is totally grey. Nobody is allowed to escape the black hole that is the State. Viktor is a scientist who stands up to the machine. He voices his displeasure at the disappearance of free thinkers whose only crime seems to be an odd, often oblique, criticism of state procedure. This leads to him losing his post at the Academy and being on the brink of a one way trip to the Gulags. Fortunately for Viktor, he has made a scientific breakthrough and Stalin calls him, personally, to "check that Viktor has all that he needs to continue his great work" (Stalin cannot apologise because, like a deity, he cannot be in error). Viktor is re-instated and fawned upon by the very people who had denounced him. So, one person who wins, one happy ending? No. Viktor is asked to sign a letter refuting the claims of Western forces, who say that Russian dissidents are mistreated. Tired of fighting, Viktor capitulates, immediately recognises his error and finds himself lost to both friends and the state - more misery. The problem with such unremitting bleakness, is that one becomes inured: a little lightening of the mood would contrast the horror which Grossman wants to represent and make it all the more graphic.
Review by BrianHostad
16/06/2015
A good read, although can be a little stilted at times, which may be down to the translation. The vast range of characters and inter-realtionship can be quite difficult to follow at times and although there is a list of characters at the end, a family tree would also have been useful.That aside this is a powerful novel that really drags you into Russian mindset, the hopes, the fears, the contradictions of life in Stalin's Russia in 1942-3. This contrasts with the German characters, who seem wooden and one-dimensional in contrast. Although I think Grossman was trying to bring out the similarities, it fails due to the lack of depth in Germans he portrays.The ending leaves many things unresolved for the characters, e.g. what happens to Krymov, which is frustrating and leaves you wondering if Grossman intended a sequel. Overall though, nothing can detract from the majesty of the book, for which there are some truly moving passages, e.g. Viktor's mother's last letter from the ghetto or the death of Sophia in the gas chamber. I don't think I'll forget either passage.
Review by dazzyj
16/06/2015
A monumental work, staggering in subject matter and scale, and heart rendingly humane in its vision and details. Essential reading for anyone who wants to understand the Twentieth Century.
Review by dmarsh451
16/06/2015
Superb overview through literature of Stalingrad, Stalinism, famine, terror, death and quotidian deprivations of every kind. It is the insider's POV, the temper of the author, and his sincere desire to tell the story that really makes this sing. I am now cured of ever again thinking I am a having a hard time.
Review by Karl_Beech
23/09/2015
Historically interesting and written in a journalistic/cinematic style- but somewhat sprawling in plot- and personally there were only a few characters that really engaged me. Perhaps overrated as a modern classic.