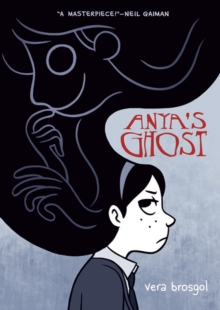 Description
Anya could really use a friend. But her new BFF isn't kidding about the "Forever" part . . . Of all the things Anya expected to find at the bottom of an old well, a new friend was not one of them.
Especially not a new friend who's been dead for a century.
Falling down a well is bad enough, but Anya's normal life might actually be worse.
She's embarrassed by her family, self-conscious about her body, and she's pretty much given up on fitting in at school.
A new friend--even a ghost--is just what she needs. Or so she thinks. Spooky, sardonic, and secretly sincere, Anya's Ghost is a wonderfully entertaining debut graphic novel from author/artist Vera Brosgol.Anya's Ghost is a 2011 Kirkus Best Teen Books of the Year title.
One of School Library Journal's Best Fiction Books of 2011.One of Horn Book's Best Fiction Books of 2011.Winner of the 2012 Eisner Award for Best Publication for Young Adults (Ages 12-17)
Information
Format: Paperback
Pages: 224 pages, chiefly Illustrations
Publisher: Roaring Brook Press
Publication Date: 07/06/2011
Category: Comics and Graphic Novels
ISBN: 9781596435520
Free Home Delivery
on all orders
Pick up orders
from local bookshops
Reviews
Showing 1 - 5 of 34 reviews.
Previous | Next
Review by sarah-e
16/06/2015
Anya's the kind of teenage girl who smokes in the bathroom, but secretly wishes she was the kind who dated her school's star athlete. She's afraid that her Mom's cooking will make her fat, afraid that she'll be teased for being a Russian immigrant, and afraid that she'll embarrass herself in gym class. One afternoon Anya skips class, falls down a well, and finds a ghost.This is a fun, quick, spooky read for teenagers or adults. While Anya's Ghost isn't quite a coming of age story, it shows how experiences - both supernatural and ordinary - can open our eyes to the people around us, and how blind to the motives and struggles of others we may be.
Review by EKAnderson
16/06/2015
I love a good graphic novel. And Roaring Brook imprint First Second brings some of the best writers and artists on board to create graphic novels for kids and young adults. One of their latest is ANYA'S GHOST by Vera Brosgol — as usual, it blew me away.ANYA'S GHOST is the story of Anya, Russian immigrant teen at a private school where she is constantly teased and virtually friendless. When she falls in an abandoned well on the way home one day, she discovers perhaps the most unlikely companion: a pile of bones. At first terrified that she's laying in a well next to a human skeleton, Anya is soon charmed by the ghost, Emily, whose sad story of the death of her family mostly makes Anya want to befriend her, or at least help her move on.When Anya is inevitably rescued from the well, she accidentally takes Emily home with her, soon discovering that Emily can be wherever her bones are, and that she is in the possession of one of the ghost's finger bones. At first, it's great having Emily around. She helps Anya cheat on her tests and gives her secrets about her crush. But Emily isn't everything she appears. She has a lot of secrets. And it turns out Anya has more than she can handle with her new friend.With beautiful art and genius writing, ANYA'S GHOST is at heart a story of self acceptance and the tough high school social theme, with themes of cultural and class identity. Out today, this is definitely a book to head out and pick up. Don't miss it!
Review by zzshupinga
16/06/2015
I first started hearing about this graphic novel a couple of months ago and it immediately caught my attention. How often does Neil Gaiman lend his praise to a work? And then I started seeing the sample pages that First Second released and I was captivated by the illustrations. So needless to say I was really looking forward to reading this book (I kept trying to find someone that would let me read it an ARC because I was so excited about it.) And the book doesn't disappoint at all. It's the perfect story for young and old alike that deals with so many of the same issues that we all face--anxiety about who we are, body image, who are friends are, and growing up just a little bit.Anya is a young teenage girl in high school who is embarrassed by where she and her family came from...Russia. She's trying hard to fit in by losing her accent, wearing the "right" clothes, going on diets, and trying to hang out with the "right" people...in other words not the nerdy Russian boy in her class. But...try as she might she doesn't fit in with the crowd that she really wants to...the popular ones. And then one day, she falls down an abandoned well in the park and meets a skeleton...and the ghost of the young girl from 1918 named Emily. Emily has been forgotten about and can't wander far from her skeleton and was just waiting for someone to come back and visit her. She keeps Anya company as she waits to be rescued, which she soon is, and one of Emily's bones hitches a ride...and Emily's ghost follows. Although there's trepidation at first Emily soon becomes Anya's confidant and helping her get the right answers on exams, making suggestions about what to wear, and help Anya get the attention of her crush. But things soon take a darker turn when it's revealed Emily isn't who she said she was and Anya must protect her family from Emily's darker nature.This is a powerful debut full length graphic novel for Vera (she's done a couple of short stories before) and it's a wonderfully told story. It's a tightly woven tale with mystery, intrigue, and some growing up as well for all of the characters, not just Anya. It moves along at a nice pace and we get a strong sense of who the characters are and what motivates them. It's one of the best stories I've read in a while and unlike some other writers going from short features to full length, Vera doesn't suffer from having gaps in the tale or missing elements. And the illustrations are reminiscent of some old black and white horror films with juuuust the right amount of depth to them without being overly cartoony.It's a fantastic read and I can't say enough good things about it. I highly recommend it to all and I look forward to seeing what Vera does next.
Review by goose114
16/06/2015
Anya, a teenager, just wants to fit in and constantly doubts herself image and heritage. While out one day she stumbles upon the ghost of a young girl. The two become friends, but soon Anya thinks she may have become ensnared in a potentially dangerous plot. I was pleasantly surprised by this graphic novel. The graphics were great and the story played with very real issues that all teenagers have dealt with: wanting nothing more than to fit in. As the story develops a darker plot unfolds that I really enjoyed. I would recommend this book to anyone who likes slightly dark graphic novels.
Review by jasonli
16/06/2015
"Anya's Ghost" is the story of what befalls Anya, an offbeat high school teen, when she falls into a mysterious hole and encounters a ghost named Emily. The novel is rich with narratives, touching upon both the coming-of-age of an immigrant teen as well as the murder mystery behind Anya's ghost.Richly illustrated in a clean, stark yet still lively manner, Brosgol has created a terrific young adult graphic novel that has already caught the eyes of the ever-popular Neil Gaiman and comic book guru Scott McCloud. My one criticism of the book is that it feels bound by the safety conventions of a young adult novel: Moments of tension and danger are few and far between and when it does come in the riveting climax, it is underutilized.Still, definitely worth a read if the premise interests you in any way.