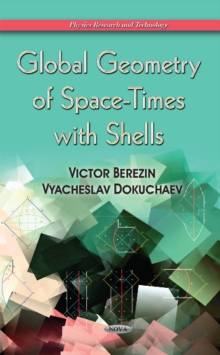 Global Geometry of Space-Times with Shells
Hardback
Description
In this book, the complete classification of the possible types of spherically symmetric global geometries for two types of electrically charged shells are explored.
These include the charged shell as a single source of the gravitational field, when internal space-time is flat, and external space-time is the Reissner-Nordstrom metric; and the neutralising shell with an electric charge opposite to the charge of the internal source with the Reissner-Nordstrom metric and with the Schwarzschild metric outside the shell.
Starting from Israel equations for the spherically symmetric thin shells, this book introduce the effective potential and shows how it can be used in constructing, without further thorough investigation, the corresponding Carter-Penrose diagrams describing clearly the global geometry of the composite space-time manifolds.
This book demonstrates how this new method works by considering all possible configurations for the neutral thin dust shell immersed into different types of Reissner-Nordstrom electro-vacuum manifolds.
Information
Format: Hardback
Pages: 153 pages
Publisher: Nova Science Publishers Inc
Publication Date: 01/12/2014
Category: Classical mechanics
ISBN: 9781633217706
Free Home Delivery
on all orders
Pick up orders
from local bookshops