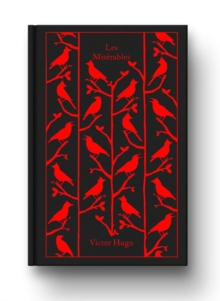 Description
Now a major musical film from Oscar-winning director Tom Hooper (The King's Speech), starring Hugh Jackman, Russell Crowe and Anne Hathaway, and also featuring Amanda Seyfreid, Helena Bonham-Carter and Sacha Baron-Cohen, Victor Hugo's Les Miserables is one of the great works of western literature.Victor Hugo's tale of injustice, heroism and love follows the fortunes of Jean Valjean (Hugh Jackman), an escaped convict determined to put his criminal past behind him.
But his attempts to become a respected member of the community are constantly put under threat: by his own conscience, when, owing to a case of mistaken identity, another man is arrested in his place; and by the relentless investigations of the dogged Inspector Javert (Russell Crowe).
It is not simply for himself that Valjean must stay free, however, for he has sworn to protect the baby daughter of Fantine (Anne Hathaway), driven to prostitution by poverty.
Victor Hugo (1802-85) wrote volumes of criticism, Romantic costume dramas, satirical verse and political journalism but is best remembered for his novels, especially Notre-Dame de Paris (1831), also known as The Hunchback of Notre-Dame and Les Miserables (1862) which was adapted into one of the most successful musicals of all time. 'All human life is here'Cameron Mackintosh, producer of the musical Les Miserables'One of the half-dozen greatest novels of the world'Upton Sinclair'A great writer - inventive, witty, sly, innovatory' A.
S. Byatt, author of Possession
Information
Format: Hardback
Pages: 1232 pages
Publisher: Penguin Books Ltd
Publication Date: 25/10/2012
Category: Classic fiction (pre c 1945)
ISBN: 9781846140495
Other Formats
Paperback from £2.50
Hardback from £6.15
CD-Audio from £13.05
eAudiobook MP3 from £5.84
EPUB from £1.04
Free Home Delivery
on all orders
Pick up orders
from local bookshops
Reviews
Showing 1 - 2 of 2 reviews.
Review by TheLostEntwife
16/06/2015
It's always a daunting task to write a review of a book not only widely read but also extremely popular. Especially after one read of the primary text (and no knowledge whatsoever of the musical, aside from the minute or so of the previews shown for the upcoming release). So rather than wax poetic about Hugo's insanely thorough, beautiful writing as many others have done, let me simply give you my impression of Les Misérables.The first 10% or so of the Kindle edition that I read dealt primarily with a description of Bishop Myriel. About 5% in I was a bit confused, wondering why all this information was necessary for a character that, admitted by Hugo, was not an integral part of the book. However, I managed to fall in love with that sacrificing Bishop and felt I knew him so intimately that by the time Jean Valjean arrived on the scene, I could predict the good Bishops movements. And aside here, the letter and actions of the Bishops sister and housekeeper had me laughing and thoroughly enjoying myself, mostly because I, as an unmarried woman in today's society, would never have been able to so meekly assist my brother in that way.Jean Valjean - such a character. 19 years spent in horrific conditions all because he stole some bread. After his run-in with the Bishop, his encounter with Petit Gervais, and his arrival in Montreuil-sur-Mer I began to get an idea of why the Bishop was such an important character to begin the book with. It was a beautiful thing to see the changes being wrought in Valjean.And then there comes Fantine. Honestly, I think Fantine is my second favorite character of the book (second to Bishop Myriel, I really did love that old man). She is the perfect tragic figure: mother to a beautiful child, abandoned by her lover, trust-worthy to a fault, abused, neglected, self-sacrificing, and all of it unrewarded until she lay on her deathbed... but even then happiness is denied to her. As miserable as Valjeans life was throughout the book, I think Fantine's situation is what really gives weight to the title that Hugo chose.And from Fantine there comes Cosette. Although there is plenty in the book about the girl, and then the young woman Cosette, I came away with less of an impression of her than of the other characters. In fact, I felt more connected to Marius than Cosette - although that might have been simply because Cosette comes off as a bit of a wimp, not due to anything that Hugo does, necessarily. It's just strange to read about her passive behavior from a 21st century perspective.The only other main character I want to touch on is Javert. Javert was the epitome of fear to me. He had a nasty habit of always showing up in a city filled with people, leaving the correct impression that he and Valjean were connected in a way that could never be broken. I appreciated Hugo's treatment of the torment that filled Javert at the end of the book and thought that his story ended in a most fitting manner.Hugo spends time not telling the stories of these main characters by elaborating on everything from an incredibly detailed description of the Battle of Waterloo (of which I now know more information than I know how to deal with), slang, the street urchin or gamin, the sewers of Paris, religious orders, and politics. Of these I found Waterloo, the religious order description, and the information on slang to be the most interesting. I read the Hapgood translation of the book for Kindle, and was rewarded with a lengthy introduction and beautiful illustrations throughout the book that enhanced the reading. I laughed, cried, felt sympathy, and completely immersed myself in this story and came away from it feeling richer - and that feeling is how I know I just read something incredible.
Review by chrisblocker
16/06/2015
Victor Hugo's classic <i>Les Misérables</i> is a good story bogged down by many digressions. It's probably what anyone should expect from the era. Authors of the time did frequently step away from the narrative and give their opinions about this matter or that, then tell you about the historical context (Hugo departed from his opinions occasionally to tell the story). More than once, Hugo wrote, "The following is an authentic incident which, although it has no bearing on our story..." "<i>Although it has no bearing on our story</i>"--this is a problem. Half the book could be eliminated and you'd still have the same story. Fortunately, the tale that is the backbone of <i>Les Misérables</i> is memorable enough than the reader still recalls the story by the time Hugo finishes his thirty or forty page rant.So I will say flat out that Hugo was not a great novelist as we think of it today. Not only did he try to lure the reader into a book of philosophy, political theory, and whatever other train of thought Hugo wanted to follow, but he tried (unsuccessfully, I believe) to trick the reader with moments of suspense. He played this game where he tried to suspend the revelation for several chapters. Maybe it's effective the first couple times, but it becomes clear too early that it is a gimmick. <i>This man, the man you've been reading about for the past thirty pages, is really...</i>All that thrown to the streets and left to beg, Hugo was a wonderful storyteller. The tales of Valjean, Fantine, Cosette, Marius, et al are epic. They may only be loosely connected to one another, but their bulk is comprised of one theme. Parallels can certainly be made to the Bible when viewed as a work of literature. Both are filled with tragedy, history, love, and enough digressions to reinterpret and make a religion out of. But the stories that many people remember from the Bible—Cain and Abel, Joseph and his brothers, Moses and the exodus, the birth of Jesus, the prodigal son, Paul on the road to Damascus, et cetera—these stories carry much of the same love, jealousy, anger, and hope that the stories in <i>Les Misérables</i> impart on the reader. And when you take a step back, look at the story in its full context, try not to let your annoyances or biases get in the way, you'll find a story of redemption. That is the Bible. And that is <i>Les Misérables</i>.
Also in the Penguin Clothbound Classics series | View all