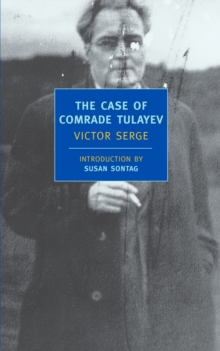 The Case of Comrade Tulayev
Paperback
Information
Format: Paperback
Pages: 400 pages
Publisher: The New York Review of Books, Inc
Publication Date: 15/11/2003
ISBN: 9781590170649
Free Home Delivery
on all orders
Pick up orders
from local bookshops
Reviews
Showing 1 - 4 of 4 reviews.
Review by dougwood57
16/06/2015
Within the first chapter, Comrade Tulayev, a Central Party Committee member of some importance is shot dead on the streets of Moscow by a person of nearly no importance and on the spur of the moment. For the rest of the book, Serge introduces the reader to a disparate group of Communist personalities who ultimately have in common only their unsought candidacy for `guilt' or their role in the persecution of the accused, or both - the two categories were far from mutually exclusive. None of the accused actually had anything to do with the murder, but that was entirely beside the point. The system demanded victims.Serge develops convincing and intriguing portrayals: of the (for-now) Party security chief Erchov; Gordayev, his grasping underling; the brilliant economic historian Kiril Rublev; Makeyev, the voraciously ambitious and brutal rural chief; Kondratiev, the Soviet agent assigned to do a status report on the Spanish Civil War and then called home rather abruptly; and others equally compelling.The confessed guilt of the accused is compelled, which has nothing at all to do with finding the murderer of Comrade Tulayev. However, one of the accused escapes trial and execution by the caprice of The Chief, another by deceiving the seemingly indomitable interrogator, Zvyeryeva. Having done time in Stalin's gulag, Serge transfers some of his experiences to the book's characters (for example, his refusal to confess).Serge paints a picture of a dark land where the rulers have been abandoned true aims of the Revolution to a desire for power that would be naked but for its clothing in revolutionary jargon. The ruling elite consume one another seriatim as needed to maintain their status. And yet there are those who retain their humanity, remain true to their revolutionary ideals, and their individuality.[A minor quibble: The NYRB Classics series usually benefits from excellent introductions. Susan Sontag's introduction left this reader feeling slightly dull and poorly-read after attempting to grasp Sontag's brilliance. Others will no doubt have greater success in that effort.]The Case of Comrade Tulayev deserves a place in the first rank of books on Stalin's totalitarian prison state, along side Darkness at Noon: A Novel and Judgment on Deltchev. Highest recommendation. Simply brilliant.
Review by Brasidas
16/06/2015
Here's a corker for you. The setting is Moscow late in the period of the show trials, about 1939. It was at this time that Stalin and his henchman rounded up, calumniated, tried and executed hundreds of key players of the original Bolshevik revolution. Victor Serge was an extraordinary man, son of Russian political exiles who fled the Czar's tyranny. He returned to USSR in 1919 to Russia to support the Revolution. In 1928, he criticized Stalin and was arrested. International pressure, he happened to be born a Brussels during his parents' flight, led to his exile. I believe Gide was part of the international literary front demanding his release. As a Communist functionary for some nine years, however, he came to know the working of the Revolution and its players intimately. COMRADE TULAYEV is an unsentimental look at how the Great Terror blamed the innocent. I must admit that the degree to which Stalin's perceived political rivals were framed and executed is almost beyond belief. Fortunately, we have Robert Conquest's THE GREAT TERROR, to document that corroborates Serge's vision in excruciating detail. A young Moscow resident finds himself in possession of a Colt pistol. When he bumps into Colonel Tulayev his immediate impulse is to pull the gun from his pocket and shoot the man dead. He flees, is never caught. Stalin and his goons then take advantage of the "public outrage" created by the murder to do away with in a random fashion a number of old Bolsheviks. Most of the narrative in the early going is simply the establishment of the lives of those blamed and their subsequent arrests. What's a surprise is Serge's consistently wonderful writing, originally in French (translated by Willard Trask). Serge's mastery is astonishing. He wrote the novel, while in flight, during the years 1940-42, almost immediately after the period of the show trials. You might recall that the book credited with bringing the Soviet show trials to light was Arthur Koestler's DARKNESS AS NOON. That novel was published in 1941. Victor Serge was in fact writing his indictment before that, but he died in 1947 and it was not published until 1950, in French. The first English translation did not come along until 1950. Susan Sontag wrote the informative preface in which she discusses why Koestler and not Serge is credited with bringing the trials to light. A fascinating book, especially for those with a little knowledge of Soviet history.
Review by DRFP
16/06/2015
I hate to spoil the love in but <i>The Case of Comrade Tulayev</i> didn't really work for me. The book might as well be a collection of short stories of individuals affected by the murder of Tulayev. Some of the characters featured in their respective chapters are interesting but many are pretty mundane. Even those who do get a simple narrative, which allows us to become involved with them, do suffer under the weight of Serge's Soviet ruminations. Again, some of this is interesting but when it goes on solidly for a densely packed 350 pages it does become tiresome. As Susan Sontag says in her unfairly disparaging introduction this isn't something as straightforward as Solzhenitsyn.I guess that's what I was hoping for here and why I was disappointed. It's an interesting era and Serge does a very good job of bringing to light the senseless stupidity, horror and justification of the purges but there's a bit too much ideology for my tastes and not enough fiction.
Review by FPdC
16/06/2015
This book is a forgotten masterpiece! Its author, Victor Serge, was born in Belgium in 1890, of exiled russian parents, become an anarchist, went to revolutionary Russia in 1919 where he fought for the Bolsheviks, then became a left oppositionist to Stalin, being expelled from the Party, emprisioned and deported to Central Asia, then expelled from the Soviet Union in 1936 as a result of an international campaign. He died in Mexico in 1947. Of his many works, this novel is widely regarded as his fictional masterpiece, considered by many as the finest piece of literature ever written about the stalinist purges. This is indeed a wonderfully conceived work, with a structure that in a certain sense seems to mirror conditions under Stalin's reign: Tulayev, a member of the Central Committee of the USSR Communist Party is murdered by mere chance, in the first chapter, by an anonymous disgruntled moscovite youth. Then, in suceeding chapters, members of government, party funcionaries, and known oppositionists (all of them entirely innocent of this particular crime,) are charged of being part of a wide conspiracy, arrested and interrogated. As the action unfolds, the diverse independent characters become ever more connected, at least in the perpective of the officials in charge of the investigation, not a few of which end up also arrested as conspirators... After a number of life sentences for the supposed plot are passed on and duly executed, the true culprit discover, by chance, in the last chapter, the tragic dimensions his act has produced. The way the main investigator of the case deals with the anonymous letter he receives from the murderer is a telling parable of a totalitariam state contempt for the truth. All this evolved story is written with such a superb wit, and even brilliancy at times, that the reading of this book is made into an indelible experience.