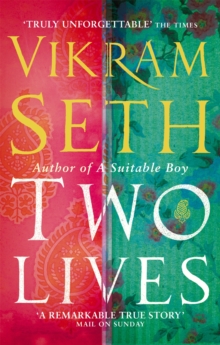 Description
TWO LIVES tells the remarkable story of Seth's great uncle and aunt.
His great uncle Shanti left India for medical school in Berlin in the 1930s and lodged with a German Jewish family.
In the household was a daughter, Henny, who urged her mother 'not to take the blackie'.
But a friendship developed and each managed to leave Germany and found their way to Britain as the Nazis rose to power.
Shanti joined the army and lost his right arm at the battle of Monte Cassino, while Henny (whose family were to die in the camps) made a life for herself in her adopted country.
After the war they married and lived the emigre life in north London where Shanti, despite the loss of his arm, became a much-loved dentist.
During his own adolescence in England, Vikram Seth lived with Shanti and Henny and came to know and love them deeply.
His is the third life in this story of TWO LIVES. This is also a book about history, encompassing as it does many of the most significant themes and events in the 20th century, whose currents are reflected in the lives of Shanti, Henny and their family: from the Raj and the Indian freedom movement to the Third Reich, the Holocaust and British postwar society.
Information
Format: Paperback
Pages: 512 pages
Publisher: Little, Brown Book Group
Publication Date: 06/07/2006
Category: Biography: general
ISBN: 9780349117980
Free Home Delivery
on all orders
Pick up orders
from local bookshops
Reviews
Showing 1 - 2 of 2 reviews.
Review by davidroche
16/06/2015
Seth is a genius. Autobiography or a crafted and woven narrative?
Review by thorold
16/06/2015
This is an interesting idea: writing biographies of relatives is normally the province of self-published amateurs rather than well-known novelists, unless of course the relatives happen to be distinguished figures themselves. It's maybe considered as being a bit below the dignity of a serious literary figure; fortunately, Seth seems to be a "try anything once" sort of writer, who's not afraid of stirring up a little family dust.Seth here has a go at applying his novelist's insight to untangling the various threads in his personal relationship with, and understanding of, his great uncle and great aunt. In the process, he brings out some interesting ideas about the ways extended families and groups of friends ("Wahlverwandschaften") work, the way we relate to people of different generations in different stages of our lives, and how little we sometimes know about the significant events in the lives of people we are close to. This works very well, and I found a lot in this aspect of the book that I could identify with.The book works rather less well when you read it as conventional biography. The non-chronological structure is sometimes confusing or requires a lot of repetition for us to keep track of the sequence of events, particularly in the section that is based on Henny's surviving letters from the 1940s; there are big chunks of historical background material that will be redundant for almost all readers; there are some areas of his subjects' lives that we would gladly know less about (their health problems in old age, for instance), and others that Seth seems strangely uninterested in, like Henny's working life.A little disappointing, perhaps, but definitely worth reading.