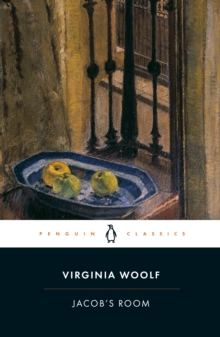 Description
Jacob Flanders is a young man passing from adolescence to adulthood in a hazy rite of passage.
From his boyhood on the windswept shores of Cornwall to his days as a student at Cambridge, his elusive, chameleon-like character is gradually revealed in a stream of loosely related incidents and impressions: whether through his mother's letters, his friend's conversations, or the thoughts of the women who adore him.
Then we glimpse him as a young man, caught under the glare of a London streetlamp.
It is 1914, he is twenty-six, and Europe is on the brink of war ...This tantalizing novel heralded Woolf's bold departure from the traditional methods of the novel, with its experimental play between time and reality, memory and desire.
Information
Format: Paperback
Pages: 240 pages
Publisher: Penguin Books Ltd
Publication Date: 02/01/1992
ISBN: 9780140185706
Other Formats
Paperback from £2.50
CD-Audio from £18.65
EPUB from £0.99
Hardback from £17.95
Free Home Delivery
on all orders
Pick up orders
from local bookshops
Reviews
Showing 1 - 1 of 1 reviews.
Review by dmsteyn
16/06/2015
This novel, published in 1922, the same year as Joyce's Ulysses and Eliot's The Waste Land, is acknowledged as a landmark Modernist text. Having previously read Woolf's To the Lighthouse and Mrs Dalloway during my undergraduate years, and having enjoyed those novels, I came to Jacob's Room with certain expectations. For one, I expected it to be challenging, and challenging it was. But it is also very short (around a 120 pages) and therefore more manageable than Joyce's magnum opus. It also illustrates some of the problems I have with Modernist fiction in general, and Woolf specifically.More on that later. First, let me expound on the technique of the book. Whereas Woolf's first two novels were, according to what I have read, fairly straightforward, in this novel, Woolf takes a much more impressionistic approach to novel-writing. Jacob's Room has barely any plot. Ostensibly being about the life of Jacob Flanders (supposedly based on Woolf's brother, Thoby), the book presents snatches from many different points of view on Jacob, and, sometimes, from Jacob's point of view. Despite being presented in chronological order, these impressions are disjointed, and it often takes some effort to make sense of what is going on. This creates a collage effect, very different from most novels that one might encounter.I liked Woolf's attention to detail and her way of turning a phrase. She creates an intense emotional portrait of Jacob, even though he is not really the protagonist of the novel; no-one is. To get an idea of what Woolf is endeavouring to do, here is a short passage from the novel:It is thus that we live, they say, driven by an unseizable force. They say that the novelists never catch it; that it goes hurtling through their nets and leaves them torn to ribbons. This, they say, is what we live by – this unseizable force.Although Woolf displays some scepticism in this extract – all those 'they say's – it is still evident throughout the quasi-novel of Jacob's Room that it is exactly this 'unseizable force' that she is trying to grasp. It is the ineffable quality of life that Woolf tries to represent, precisely by going against the supposed realism of the Realist writers, such as Arnold Bennett.Her characterisation is fluid to the point of flowing down the drain, at least at times. That is one problem I had with her writing. Despite beautifully lyrical and elegiac passages, the book sometimes felt insubstantial – 'flimsy', maybe. Perhaps this is because of its lack of plot and other anchoring points, such as relatable characters and substantial events. Woolf sacrifices these on purposes, but it sometimes felt like the book was an experiment that either went too far, or did not go far enough. To the Lighthouse and Mrs Dalloway seemed comparably more successful attempts at marrying traditional novelistic techniques to Modernist experiments in narration. Ulysses, which uses similar techniques, also seems more successful, as it goes the whole hog in rejecting Realism. That said, I read Jacob's Room without any guide, so I might have missed out on some of Woolf's intentions with the novel.On the whole, an interesting, if flawed, attempt at presenting a life as it is really experienced, and not as it is usually channelised into easily digested fiction.