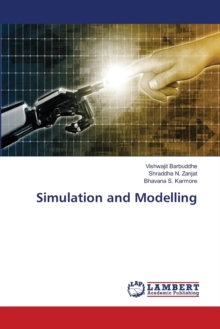 Simulation and Modelling
Paperback / softback
Description
The book contains: Inventory Concept: The technique of Simulation, Major application areas, concept of a System, Environment, Continuous and discrete systems, systems modeling types of models progress of a Simulation Study, Monte Carlo Method, Comparison of Simulation and Analytical Methods.
Numerical Computation Technique for discrete and continuous models, Continuous System Simulation.
Probability Concepts in Simulation: Stochastic variables, Discrete and Continuous Probability Functions, Numerical evaluation of continuous probability functions, continuous uniformly distributed random numbers, Random Number Generators - Linear congruential Generator, Mid Square Method, Multiplicative Congruential generator, rejection Method, Testing of random Numbers, Generation of Stochastic variates, Arrival Patterns Service times.
Information
Format:Paperback / softback
Pages:100 pages
Publisher:LAP Lambert Academic Publishing
Publication Date:16/03/2020
Category:
ISBN:9786202513685