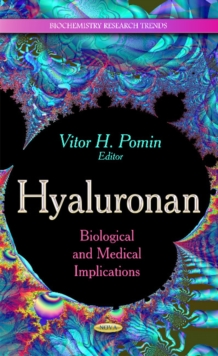 Hyaluronan : Biological & Medical Implications
Hardback
Description
Hyaluronan or hyaluronic acid (HA), the only non-sulfated glycosaminoglycan (GAG) of the body, is structurally composed of disaccharide repeating units of alternating 3-linked N-acetyl -D-glucosamine and 4-linked -D-glucuronic acid.
Despite the lack of sulfation and the lowest structural heterogeneity among all GAGs, HA still retains efficient capability in interacting with many molecules, especially functional proteins like growth factors, cytokines, and adhesive proteins involved in angiogenesis, tumour proliferation, migration and invasion.
However, the main biological role of HA is to assemble the extracellular matrices of certain soft tissues, such as vitreous humour, synovial fluid, umbilical cord and the intercellular space of the epidermis.
HA is the major structure-forming component in the globe of the eye and cornea.
For this reason, this GAG can be used to compose ophthalmic solutions.
The most famous physicochemical property of HA is its capacity to make gels in solution.
This property can be pharmaceutically and industrially useful as either a vehicle to make specific media or biologically active sera.
This book, heavily based on recent scientific results from research groups of several countries, will cover many of these aspects of HA, the related enzymes and metabolism in health and disease.
The seven chapters are basically centred in: 1) the covalent modifications of HA by serum protein and the biological consequences; 2) the aspects of HA as a function of age; 3) carcinogenesis as a function of HA metabolism; 4) therapeutic applications of HA-related enzymes; 5) characterisation and analyses of HA-based ophthalmic solutions; 6) the role of HA in reproductive medicine; and 7) the role of HA in bone medicine.
The contributing authors are renowned scientists in the HA field and this collaborates to the high-quality of this publication.
Information
Format: Hardback
Pages: 123 pages
Publisher: Nova Science Publishers Inc
Publication Date: 01/06/2014
Category: Biochemistry
ISBN: 9781631178085
Free Home Delivery
on all orders
Pick up orders
from local bookshops