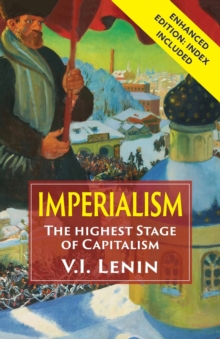 Imperialism the Highest Stage of Capitalism : Enhanced Edition with Index
Paperback / softback
Description
This 100-Year-Old Book Still Explains Our Endless Wars.
As the extraordinary death and suffering of World War I unfolded, Vladimir Ilyich Lenin tried to explain why so many nations agreed to sacrifice so many people in such a brutal way. Expanding on the works of other political and economic theorists, including Karl Marx, Lenin provided an answer: capitalism. As he saw it, WWI was solely about imperialism and colonialism. To maintain their unyielding drive for maximum profit, the major capitalist industries of rich nations—banks and manufacturing—had to seek riches outside of their country's borders. By sending money (capital), instead of goods, to poorer, less developed nations, they could exert their power and control new markets. But what happens when rival empires clash over these colonized lands? Warfare.
In Imperialism: The Highest Stage of Capitalism, Lenin extends his scorn to the international socialist movement which -- with the exception of the Russian faction -- supported entering the war to fight against a perceived foreign enemy while ignoring domestic marauders. He also exposes the cynicism behind the Wilson doctrine, which posited the world could achieve peace through the continued exploitation of the poor by the rich. Lenin connects the ruling class's increased wealth with the corruption, through bribes, of politicians and the labor leaders who worked to suppress workers' strikes. Now a century in print, Lenin's influential analysis remains highly relevant in comprehending the historical context of the foreign and domestic policy in the United States and other major nations.

This Echo Point Books edition has been enhanced with an index, not found in previous editions.

Looking to complete your Lenin library? Add a copy of Echo Point Books' State and Revolution (hardcover ISBN 978-1-63561-892-1, paperback ISBN 978-1-63561-761-0) to your collection!
Information
Format: Paperback / softback
Pages: 132 pages
Publisher: Echo Point Books & Media
Publication Date: 28/05/2020
Category: Social & political philosophy
ISBN: 9781635617191
Free Home Delivery
on all orders
Pick up orders
from local bookshops