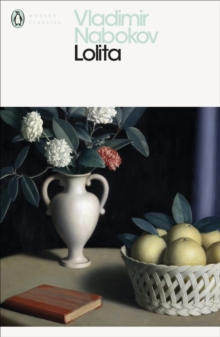 Description
One of the most controversial novels of the twentieth century, Vladimir Nabokov's Lolita is a strange, troubling love story told by the one of the most unreliable narrators in literature.
This Penguin Modern Classics edition includes an afterword by Craig Raine. Poet and pervert, Humbert Humbert becomes obsessed by twelve-year-old Lolita and seeks to possess her, first carnally and then artistically, out of love, 'to fix once for all the perilous magic of nymphets'.
Is he in love or insane? A silver-tongued poet or a pervert? A tortured soul or a monster? Or is he all of these? Humbert Humbert's seduction is one of many dimensions in Nabokov's dizzying masterpiece, which is suffused with a savage humour and rich, elaborate verbal textures.
Filmed by Stanley Kubrick in 1962 starring James Mason and Peter Sellers, and again in 1997 by Adrian Lyne starring Jeremy Irons and Melanie Griffith, Lolita has lost none of its power to shock and awe. 'Lolita is comedy, subversive yet divine ...You read Lolita sprawling limply in your chair, ravished, overcome, nodding scandalized assent' Martin Amis, Observer
Information
Format: Paperback
Pages: 336 pages
Publisher: Penguin Books Ltd
Publication Date: 03/02/2000
ISBN: 9780141182537
Other Formats
Hardback from £10.19
Paperback from £6.65
EPUB from £4.99
Free Home Delivery
on all orders
Pick up orders
from local bookshops
Reviews
Showing 1 - 5 of 35 reviews.
Previous | Next
Review by woollymammoth
16/06/2015
Lolitia initally disgusts you, then fascinates you. Oddly enough the daily mail doesn't want the book banned, not the film. An account of an abusive relationship inthe form of a confession from the absuer. Very challenging.
Review by stipe168
16/06/2015
Beautifully written story about two lovers taking advantage of the other. Nabokov's prose/poetry is soultaking.
Review by Pepys
16/06/2015
What's the use of posting an umpteenth review on this book? There are so many already, and their rate even gave me the impression to increase in the last few weeks. I can find at least one good reason in <I>Lolita</I>'s being the first book I read that was recommended to me by another LTer. It was a mystery to me: what made it so special? Although my bad command of English didn't allow me to catch all the subtleties that exegeses find in this book, I could appreciate the originality of Vladimir Nabokov's style and his clever neologisms. Also, I didn't expect so much humour.Well, I know: the book is claimed to be disgusting. I'm not going to expatiate on this. The book is split in two parts, which are curiously entitled <I>Part One</I> and <I>Part Two</I>. I liked <I>Part One</I> very much. This is where the narrator Humbert Humbert tells us about his childhood and youth, and explains how he managed to get in touch—I think Nabokov wouldn't have disowned this phrase—with Lolita. HH's feelings are so precisely described that I wonder how Nabokov could write this without being a perverse himself.<I>Part Two</I> is about HH's car tribulations across the United States. Probably because I know very little of the US—I visited only once north-western NY—I found this second part lengthy and less interesting. I awaited impatiently the description of the crime at the end of the book: it proved boring.But, interestingly, <I>Part Two</I> has a real Flaubertian flavour. This is plainly said at its beginning. I found it was a subtle mixture of <I>L'Education sentimentale</I>, <I>Madame Bovary</I>, and <I>Bouvard et Pécuchet</I>. Don't ask me why: it's just a feeling. It also reminded me with Georges Perec's <I>Les Choses</I>, which is not surprising, because Perec was much influenced by Flaubert. Since <I>Les Choses</I> were written in the 1960s, I suspect Perec was also influenced by <I>Lolita</I>. I have no time to check this at the moment, but will do it later. Although I liked <I>Part Two</I> less than <I>Part One</I>, I'm surprised to see that I noted many more passages from P2 than from P1... Isn't that strange? What I particularly like in Nabokov's style is his ability to begin a sentence very seriously and then kind of skids at the end. I hope I won't be considered a spoiler if I list here some of my favourites:'Valeria, as she waddled by my side, began to shake her poodle head vigorously without saying a word. I let her go on for a while and then asked if she thought she had something inside.''My scheme was a marvel of primitive art: I would whizz over to Camp Q, tell Lolita her mother was about to undergo a major operation at an invented hospital, and then keep moving with my sleepy nymphet from inn to inn while her mother got better and better and finally died.''We inspected the world's largest stalagmite in a cave where three southeastern states have a family reunion; admission by age; adult one dollar, pubescents sixty cents.''(...) we (...) silently stared, with other motorists and their children, at some smashed, blood-bespattered car with a young woman's shoe in the ditch (Lo, as we drove on: "That was the exact type of mocassin I was trying to describe to that jerk in the store")''We had been everywhere. We had really seen nothing.''Lo (...) dropped into a chair with all four limbs starfished to express the utmost disgust and exhaustion''They were going to India for their honeymonsoon.'
Review by ChicGeekGirl21
16/06/2015
Books about perfect love that has absolutely no obstacles are boring and unrealistic. Books about obsession and love that is completely frowned upon (aka "forbidden love") are something that people can actually relate to since it's pretty much the foundation of human emotion. Lolita's anti-hero, the (pedophilic?) Humbert Humbert is the embodiment of selfish, obsessive, unrequited love. Like Jay Gatsby, Humbert loves someone/something he can never have. Unlike Jay Gatsby, this person does not become a trophy or a green light across a body of water, but becomes a long, feverish dream. A hazy cloud of beauty. In Lolita, Humbert is no monster, but a pathetic victim--a man emasculated and made impotent (not literally, but still...) by the very girl he loves. Lolita is one of those "you have to read this before you die" books.
Review by paulharryallen
16/06/2015
A beautifully ambivalent story which did throw up a few choice looks on the tube. The cover shown is the closest I could get as I have the original film tie-in copy.
Also in the Penguin Modern Classics series | View all