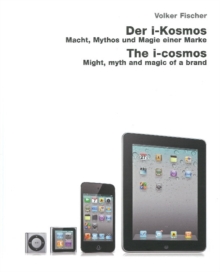 The i-Cosmos : Might, Myth and Magic of a Brand
Hardback
Description
Text in English & German. Apple Inc, the Californian computer company, has been marked by unparalleled success over the past three and a half decades.
Like no other company, it has succeeded in shifting the focus of use from utility to coveted possessions when it comes to computers and electronic entertainment devices such as the iPod, the iPhone and the iPad.
In addition, each of the products in the i-family have changed their product genres technologically and ergonomically to such an extent that not only have all competitors adopted these new 'user guidances', but hundreds of complementary products have been created around these products as well, from a wide range of accessories to docking stations (ie: veritable radios with external speakers for the iPods and iPhones) that allow users to experience the stored music without headphones.
The iPhone has compelled all manufacturers of mobile phones to add smart phones with touch sensitive screens, the touch phones, to their programs. And the iPad will fundamentally transform the handling of video and news as well. Since the introduction of the iPhone, over 200,000 special application programs, the so-called apps, have been made available for these i-devices.
In their product genres, these devices have each caused a paradigm shift: they are both leading and cult products, and they represent a development that has leveraged the mobile Internet and delocalised the act of surfing from the home to almost anywhere.
The book comments upon this process of 'disruptive technologies', which has taken place only very rarely in the history of technology and design.
They leaf through the preconditions and position these innovative devices in product-historical, social, and psychological contexts.
Information
Format: Hardback
Pages: 144 pages, 275 colour & b/w photos
Publisher: Edition Axel Menges
Publication Date: 30/03/2011
Category: Information technology industries
ISBN: 9783936681482
Free Home Delivery
on all orders
Pick up orders
from local bookshops