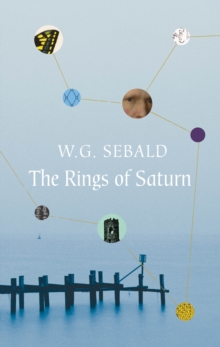 The Rings of Saturn
Paperback
Description
"The Rings of Saturn" begins as the record of a journey on foot through coastal East Anglia.
From Lowestoft to Bungay, Sebald's own story becomes the conductor of evocations of people and cultures past and present: of Chateaubriand, Thomas Browne, Swinburne and Conrad, of fishing fleets, skulls and silkworms.
The result is an intricately patterned and haunting book on the transience of all things human.
Information
Format: Paperback
Pages: 304 pages
Publisher: Vintage Publishing
Publication Date: 01/11/2002
ISBN: 9780099448921
Free Home Delivery
on all orders
Pick up orders
from local bookshops
Reviews
Showing 1 - 3 of 3 reviews.
Review by saloliver
16/06/2015
At first I thought this book was going to be way too highbrow for me. I don't think my first impression was helped by the fact that it has been marketed and reviewed as a novel. I only bought it because the blurb said it was set on the Suffolk coast, an area I happened to have just escaped from. I was so struck by the accuracy of his description of the landscape and its inhabitants down to the last detail of each rock and fisherman that I had to read on just to see if I could catch him out.(I couldn't). And then the book starts to make sense and you begin to realise that you are being made privy to the connections of a mind so quirky, knowledgable, observant etc etc that you get sucked in. At least I did. And I laughed and learned tons of useless information, about Rembrandt and silk worms amongst other things. This is a wonderfully uplifting read for any self-respecting depressive; definitely a case of "only connect..."
Review by JanetinLondon
16/06/2015
This is one of the best books I have read in a very long time. I don't really know how to describe it, and I can't remember ever reading anything quite like it. It's ostensibly Sebald's thoughts and adventures as he wanders along the Suffolk coast in eastern England. But I imagine it's more often the thoughts the walk, or numerous walks in the same area, bring up in him later, because if he was really thinking in such rambling ways as he walked he wouldn't remember it clearly enough to write it all down so well. It's like a series of mini-essays on interesting topics.Each chapter starts with a description of where he is, and perhaps some anecdote about that place – something historical, or how things have changed, or someone he knows there. But soon enough he is off on a tangent, discussing topics from St Mark the Evangelist to VE Day, and back again. These are without exception entertaining, interesting and educational, and terrifically well written (and/or translated – I can't read German well enough to check).Often, we got so far from the original topic that I couldn't imagine how it had happened, so I went back to look. He is a real master of the transition. Here's an example. He's been looking at out the dark sea at night, and it reminds of a dream he once had. After describing the dream, he muses on how events in dreams seem so real, yet so unreal at the same time. Then he writes:"Just as these things have always been beyond my understanding, so too I found it impossible to believe, as I sat on Gunhill in Southwold that evening, that just one year earlier I had been looking across to England from a beach in Holland."and then he's off, describing some events from that earlier trip.I have no talent for writing at all, but if I were a writer, I'd want to write like this. The book made me want to know more, on any subject, really, to talk to and listen to others about what they know, and to get out and walk more, but not along that Suffolk coast, which did not come across as particularly enticing, I have to say.
Review by Eyejaybee
16/06/2015
This novel started so promisingly but swiftly subsided into rampant tedium.