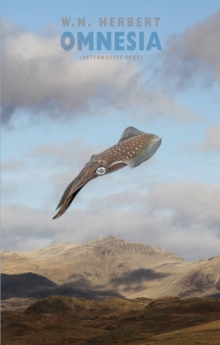 Omnesia (alternative)
Paperback / softback
Description
'Omnesia' is Bill Herbert's melding of omniscience and amnesia, the modern condition of thinking we can know everything about our world but, in actuality, retaining dangerously little.
This doubly impressive new collection - published in twin editions, the alternative text and the remix - approaches and evades such flawed totality.
Neither the alternative text nor the remix is the primary text.
They are two variations, doppelgangers haunted by the idea of a whole neither can embody or know.
Readers can read either or both versions. Booksellers can stock either or both. Only the literary prize judges will have to read both in order to shortlist either or both as one.
For the past seven years Herbert has wandered from the Turkic west of China to the barrios of Venezuela; from Tomsk, the 'Athens of Siberia', to the heat of Hargeisa, capital of Somaliland, an unacknowledged country.
These are travels to translate and, in more than one sense, to be translated; brief encounters with poets and poetics outside the Eurocentric norm; looking-glass meetings, omnesiac pilgrimage.
Along the fracture lines between east and west in the Balkans, Greece, and in Jerusalem, across the cultural gaps that mark the north and south of the British Isles, Herbert teases out, through tensions between lyric and satire, English and Scots, formalism and experiment, what it is we hope to mean by home, integrity, or authenticity.
Herbert's Omnesia is riven by the anxiety of incompletion: it is two variations desiring to be one theme; doppelgangers haunted by the idea of a whole neither can embody or know.
Which one are you reading?
Information
Format: Paperback / softback
Pages: 176 pages
Publisher: Bloodaxe Books Ltd
Publication Date: 21/02/2013
Category: Poetry by individual poets
ISBN: 9781852249625