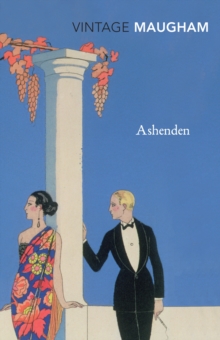 Description
When war broke out in 1914, Somerset Maugham was dispatched by the British Secret Service to Switzerland under the guise of completing a play.
Multilingual, knowledgeable about many European countries and a celebrated writer, Maugham had the perfect cover, and the assignment appealed to his love of romance, and of the ridiculous.
The stories collected in Ashenden are rooted in Maugham's own experiences as an agent, reflecting the ruthlessness and brutality of espionage, its intrigue and treachery, as well as its absurdity.
Information
Format: Paperback
Pages: 352 pages
Publisher: Vintage Publishing
Publication Date: 06/07/2000
ISBN: 9780099289708
Free Home Delivery
on all orders
Pick up orders
from local bookshops
Reviews
Showing 1 - 3 of 3 reviews.
Review by soylentgreen23
16/06/2015
Maugham wrote amazing short stories, and lived an amazing life. In this volume he recounts some of his adventures during the First World War, when he lived something of a charmed life in France, Switzerland, America and Russia. As always, his stories touch on concepts of love and loss and the fundamental lack of mutual understanding that so often plagues relationships.
Review by fourbears
16/06/2015
Ashenden is a playwright who works for the British secret service as a spy in Europe during WWI. It's based on Maugham's own experiences. This is billed these days as a novel, but it's also been published as Volume 3 of the short stories of W. Somerset Maugham. Ashenden is detached and sophisticated. He meets with shady characters who provide information, unmasks frauds and lures enemy agents to their deaths. There's no plot as such, except in the individual stories, or some times in a series of 2 or 3 stories. The organization is chronological, with the last story about a mission to subvert the Russian Revolution, which happens too quickly for Ashenden to get his ducks in order. Reputedly the character of Ashenden inspired Ian Fleming's creation of James Bond.Quirky characters are the interest in this book. There's Chandra Lal, an Indian revolutionary working on the German side, whom Ashenden lures to his death using his lover as bait. There's the "hairless Mexican" who's an assassin hired by Ashenden's boss, R., the head of the Secret Service. There's Ashenden's ex-lover, Anastasia Alexandrovna whom he meets again in Moscow and John Quincy Harrington, a naïve American businessman whom Ashenden meets on the Trans-Siberia railway to Moscow to get business contracts signed.
Review by edwinbcn
16/06/2015
"To drink a glass of sherry when you can get a dry Martini is like taking a stage-coach when you can travel by the Orient Express." (p. 225-226)Few literary sources are mentioned to explain Ian Fleming's creation of James Bond, although Eric Ambler's spy novels, published in the late-30s and onwards are sometimes mentioned. Another worthy contender would be Ashenden, or, The British agent by W. Somerset Maugham.The truth behind the story is astonishing enough. In 1914, W. Somerset Maugham was recruited by the British Secret Service to stay in Switzerland, posing to work on a play, and in this disguise execute his work a a liaison and spy. The stories in Ashenden, or, The British agent are based on Somerset Maugham's own experience as an agent. The main character, modeled on the author, is an aristocratic, suave gentleman, ruthless enough to face blackmail, interrogation and murder, in the service of the Motherland.Somerset Maugham cleverly borrowed Conan-Doyle's formula of a collection of loosely connected stories that each form an episode around the main character on an ongoing mission, similar to the The adventures of Sherlock Holmes.John Ashenden might as well be the model for James Bond, perhaps a bit more aristocratic. Another similarity, is that, like in the James Bond novels, the chief of the secret service is never named other than merely by the use of an initial, thus Colonel R.Ashenden, or, The British agent breathes the atmosphere of Conrad's Under Western eyes, in which foreign operatives, with long, foreign-sounding names meet in obscure hostels, plotting and conspiring to do mischief. The stories are not as exciting as later spy novels in the genre, but Maugham does bring an intriguing cast of characters together, Russian, Mexican and Indian, with characters such the hairless Mexican, The dark woman, or Giulia Lazzari.Ashenden, or, The British agent was written and published in 1928, but based on Somerset Maugham experience during the Great War. It is a book that offers a different perspective of the First World War.