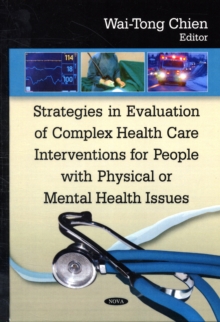 Strategies in Evaluation of Complex Health Care Interventions for People with Physical or Mental Health Issues
Hardback
Description
Strategies in the evaluation of psychosocial health care interventions for people with physical and/or mental health problems are useful and important to practitioners and researchers.
However, there is limited evidence in health care journals and information in books about this important topic.
The purposes of this edited book are two-fold. First, the book will highlight and discuss a variety of methods used in evaluation research, which are mainly categorised as process and outcome-based evaluation.
Second, it will disseminate up-to-date research evidence on a variety of psychotherapeutic, educational and supportive models of psychosocial interventions for people with physical or mental health problems, including those with cancer, heart failure and cardiovascular diseases, schizophrenia, dementia, first-time pregnancy, and paediatric surgery, as well as for their family caregivers.
Most of research studies included in this book were randomised controlled trials (RCTs) with repeated measures design.
However, a few are focused on not only health outcomes but also the process of the intervention or study.
Interestingly, the study populations in these research reports consisted of people in different stages of life-span development, ranging from young children undergoing surgery (Chapter 2), adolescents and adults with schizophrenia (Chapter 4), women with first-time pregnancy (Chapter 5), to older people with dementia (Chapter 7), as well as their adult family members and parents.
Discussion and evaluation of strategies for multi-component psychosocial interventions are limited.
This edited book, which reports research using different study methods and designs of approaches to psychosocial interventions for different groups of people with physical and/or mental health problems, and also for their family caregivers, offers highly useful empirical evidence, or can be used as a reference guide, for health care practitioners and researchers.
Another two valuable aspects of this book are to inform health care professionals and researchers that some effective models of psychosocial intervention commonly used in Western countries can be adopted, with or without modifications, for people in Asian populations.
Also, the book will enhance evidence-based practice and research in Chinese populations, which comprise the largest population in the world but, have received limited attention in terms of health care and interventions.
Information
Format: Hardback
Pages: 162 pages, tables
Publisher: Nova Science Publishers Inc
Publication Date: 28/07/2009
Category: Medicine: general issues
ISBN: 9781606921760
Free Home Delivery
on all orders
Pick up orders
from local bookshops