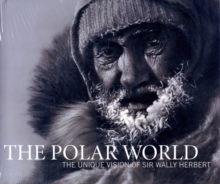 The Polar World : The Unique Vision of Sir Wally Herbert
Hardback
Description
This stunning book captures the spirit of the Polar World, as never seen before - through the eyes of a man who was the bridge between the heroic age of exploration and modern adventure; a visionary who walked in the footsteps of all the greatest explorers, and learned the art of survival from the Inuit themselves.This superb collection of Sir Wally's paintings, together with personal anecdotes of his experiences in the Polar World and his connection with the polar pioneers of the past, as well as his descriptions of the inspiration behind his paintings, makes this, his last book, outstandingly valuable as a vital contribution to polar literature, and as a unique collectors item.Sir Wally Herbert, who passed away on 12th June 2007, just days after seeing the first copies of the book, was a polar explorer of international distinction - 'the greatest explorer of our time' according to Sir Ranulph Fiennes; a 'phenomenon' according to Lord Shackleton, and a man whose 'determination and courage', according to His Royal Highness, Prince Charles, 'are of such heroic proportions that his country should mark his achievements eventually by having him stuffed and put on display!'Sir Wally, who was Knighted on the last day of the old Millennium as one of the 'icons' of the 20th Century, was not only a polar hero, but is also a prize-winning author with nine books to his credit, and a gifted artist who had one-man shows in London, Sydney and New York, and whose original artworks are owned by Royals, collectors and investors from all over the world.
He was the only artist who ever painted the Polar World in all four seasons of the year and, even more remarkably, did so from the unique perspective of the pioneer."The Polar World" is not only an extraordinary celebration of polar life and landscape rarely visited by man, but it is also a journey into the very heart of the last of the great polar pioneers.
This is a truly important book that will give its readers an unparalleled insight into the experience of the polar wilderness.
Information
Format: Hardback
Pages: 128 pages, 91 full colour reproductions of paintings, maps & sketches
Publisher: Polarworld
Publication Date: 01/10/2007
Category: Expeditions
ISBN: 9780955525513
Free Home Delivery
on all orders
Pick up orders
from local bookshops