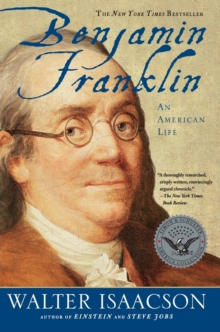 Benjamin Franklin : An American Life
Paperback
Description
During his 84-year life Benjamin Franklin was America's best scientist, inventor, publisher, business strategist, diplomat, and writer.
He was also one of its most practical political thinkers.
America's first great publicist, he carefully crafted his own persona, portrayed it in public and polished it for posterity.
In this riveting new biography Walter Isaacson provides readers with a full portrait of Franklin's public and private life - his loyal but neglected wife, his bastard son with whom he broke over going to war with England, his endless replacement families and his many amorous, but probably unconsummated, liaisons.
But this is not just a biography of Benjamin Franklin but rather a fascinating look at American and European political history at that time.
Isaacson examines the run up to the Revolutionary War, the intimate relations between Britain, France and the colonies and the decisive events that led to America's independence.
Just as David McCullough brought life to the historic figure of John Adams, Isaacson portrays Franklin in the flesh, showing readers how this radical man helped define America's national character and personality.
Information
Format: Paperback
Pages: 608 pages, 16pp 4-c insert
Publisher: Simon & Schuster
Publication Date: 01/06/2004
ISBN: 9780743258074
Other Formats
EPUB from £7.99
eAudiobook MP3 from £15.08
Free Home Delivery
on all orders
Pick up orders
from local bookshops
Reviews
Showing 1 - 5 of 15 reviews.
Previous | Next
Review by bherner
16/06/2015
A great biography. I've never been much of a fan of biographies. Isaacson is a master of the form though.
Review by SeriousGrace
16/06/2015
"Benjamin Franklin is the founding father who winked at us" (p 2). What a great way to start a biography about a man whose life is such common knowledge you don't feel like you could read yet another one and get anything new out of it. It is Isaacson's writing style that sets him apart from all the other biographies. From the very beginning, Isaacson draws you into Franklin's world with such ease and humor. His style of writing is charming and winsome in a myriad of ways, but I liked that he used such words as "sassy" and "spunky" to describe people. A lot of Isaacson's information is drawn from Franklin's own words, either from his autobiography (even correcting Mr. Franklin from time to time) or from Franklin's personal letters. I particularly enjoyed Franklin's tongue in cheek research about the smell of farts correlating to the type of food one eats. But, Isaacson's playful account doesn't mean he refrains from personal critical opinion about our founding father's actions, especially concerning Franklin's treatment of his immediate family. He defends Franklin as much as he can concerning the relationships Franklin has with women other than his wife, claiming they were mostly nonsexual. However, Isaacson has sympathy for Franklin's family who spend nearly two decades without him. In addition to Franklin's personal life, Isaacson also is extremely thorough in detailing Franklin's civic contributions, political dealings and public life.
Review by ck2935
16/06/2015
Ok, another audio book that I really enjoyed. Franklin is simply facinationg. He is an inspiration and a great representation of the American spirit.
Review by inkstained
16/06/2015
I devoured the first half of this book, and then had to put it down to deal with real life for awhile. I haven't picked it up again yet, but that's only because I know that if I did, the next time I put it down again another two weeks would have passed and my life would be in chaos. Walter Isaacson is a genius of a writer, and only someone as genius as he is could possibly make any of the founding fathers as absorbingly interesting as this. I mean, I like history and all, but this was more like having ole' Benjy on my Tivo like reruns I can't resist--next thing I know it's 5AM and I forgot to eat dinner.
Review by PointedPundit
16/06/2015
A Sweeping View of the Life of Benjamin FranklinDuring his 84 year life, Benjamin was his country's best scientist, inventor, diplomat, writer, business strategist, and perhaps, its most practical political thinker.Walter Isaacson, formerly CNN Chairman and Time Magazine Editor, provides us with a 590 page portrait of the Founding Father who winks at us. This revolutionary leader prized pragmatics, religious tolerance and social mobility. Isaacson pictures a man with a vision for his new country that was based on middle class virtues and values. He pictures a man instinctively comfortable with the strength and wisdom of the country's shopkeepers. He pictures a man who based his morality on leading a "good" life, serving his country and on the belief that salvation would be achieved by good works.Franklin was a complex person. And Isaacson succeeds in drawing lessons from his life that are more complex that those usual drawn by founding father's foes and fans. I, for one, am grateful author had the time to thoughtfully explore them. These lessons are as vital today as they were during the revolutionary time in which Benjamin Franklin lived.