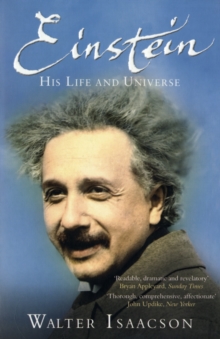 Einstein : His Life and Universe
Paperback
Description
Einstein is the great icon of our age: the kindly refugee from oppression whose wild halo of hair, twinkling eyes, engaging humanity and extraordinary brilliance made his face a symbol and his name a synonym for genius.
He was a rebel and nonconformist from boyhood days. His character, creativity and imagination were related, and they drove both his life and his science.
In this marvellously clear and accessible narrative, Walter Isaacson explains how his mind worked and the mysteries of the universe that he discovered.
Einstein's success came from questioning conventional wisdom and marvelling at mysteries that struck others as mundane.
This led him to embrace a worldview based on respect for free spirits and free individuals.
All of which helped make Einstein into a rebel but with a reverence for the harmony of nature, one with just the right blend of imagination and wisdom to transform our understanding of the universe.
This new biography, the first since all of Einstein's papers have become available, is the fullest picture yet of one of the key figures of the twentieth century.
Information
Format: Paperback
Pages: 704 pages, 16pp b-w plates
Publisher: Simon & Schuster Ltd
Publication Date: 26/04/2008
ISBN: 9781847390547
Other Formats
Paperback from £8.35
EPUB from £6.99
eAudiobook MP3 from £15.08
Free Home Delivery
on all orders
Pick up orders
from local bookshops
Reviews
Showing 1 - 3 of 3 reviews.
Review by psiloiordinary
16/06/2015
An excellent read. Enjoyable, thought provoking, touching and inspiring.At six hundred odd pages including a comprehensive index and sources list this is not a quick read. Nevertheless, once I had started I did not consider the size of it until I reached the end, and then it was only in disappointment that I had finished already.Sumptuous detail about the man and the times in which he lived. Human, frail even naive but with a fiercely glowing flame of character and strong basic principles of goodness. So we get a fascinating view of a thoughtful and fundamentally peaceful man, living as best he can through a confused and violent period of history, with fame piled on to his shoulders together with the weight of the expectation of the easy and regular dispensation of wisdom in any area of human concern.Some of the stranger aspects of his life, that I had previously read about, certainly seemed to make more sense when viewed in the totality of his life even though total empathy is impossible from the written word alone.I also found this inspiring as someone trying to learn about science, and as a father.Go read it.
Review by itbgc
16/06/2015
I loved reading this book except for one thing: The physics portions of the book were quite lengthy and so far over my head. Alas, I've never taken a physics class, which I regretted while reading this book. I heartily recommend this book to others. It's a long book but well worth the time to read.
Review by nicky_too
16/06/2015
At times I struggled with this book. Apparently Albert Einstein knew how to explain his theories in a simple way, Walter Isaacson doesn't know how to do that. Add to that the fact that I'm notoriously bad at anything scientific and you will see the problem.Notwithstanding the obvious struggle, I did think this is a very interesting book. Before I bought this book I didn't know much (I should say: I knew nothing really) about Albert Einstein. All I had ever heard was the reputation that he was a difficult man, without emotion, scruffy, untidy. When I saw him on tv, I thought that couldn't be right. His eyes were too soft, friendly. That's when I decided I wanted to know more and this biography proves me right. He comes across as a very friendly and sweet person. Apparently he wasn't always an easy man, but who is? :-)After all, I think he was a fascinating man and I'm glad I read this book.