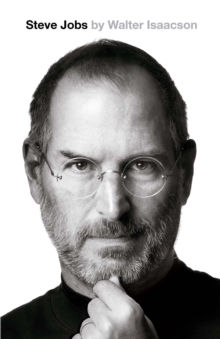 Steve Jobs : The Exclusive Biography
Hardback
Description
From bestselling author Walter Isaacson comes the landmark biography of Apple co-founder Steve Jobs.
In Steve Jobs: The Exclusive Biography, Isaacson provides an extraordinary account of Jobs' professional and personal life.
Drawn from three years of exclusive and unprecedented interviews Isaacson has conducted with Jobs as well as extensive interviews with Jobs' family members, key colleagues from Apple and its competitors, Steve Jobs: The Exclusive Biography is the definitive portrait of the greatest innovator of his generation.
Information
Format: Hardback
Pages: 656 pages, Section: 16, b/w photos
Publisher: Little, Brown Book Group
Publication Date: 01/10/2011
Category: Biography: business & industry
ISBN: 9781408703748
Other Formats
Paperback from £10.49
EPUB from £7.49
Free Home Delivery
on all orders
Pick up orders
from local bookshops
Reviews
Showing 1 - 5 of 6 reviews.
Previous | Next
Review by pierthinker
16/06/2015
At nearly 600 pages this appears to be the definitive cradle-to-grave, warts and all biography of one of the most famous men of the last 40 years. Steve Jobs was clearly not the easiest subject for a biography - controlling, manipulative and just plain weird - and Isaacson has done admirable work in documenting the life of the man.From his earliest days it is clear Jobs marched to a different tune and had a particular vision of himself as always being right and always getting his own way. We see in this book how Jobs developed his personality and how he imprinted that personality into every aspect of Apple.For me, Jobs is most clearly defined by the products he developed at Apple and this what he will be remembered for - not how he created a corporate culture that could develop these products, but the products themselves and how they have affected the lives of millions to the point that very few of us really remember what life was like before the iPod or iPhone. The technology and the design processes are generally skimmed over in this book in favour of the personal battles and politics at the heart of Apple and its development. I wanted more of how Jobs turned strange ideas in his head into real devices that have swamped the world.This is a good book although not as technically proficient and historically rigorous as Isaacson's previous work. To my mind he is too close in time and in his relationship with the subject. This reads more like reportage than like biography or history. Isaacson tells his story well and the book moves along at pace always holding the interest.
Review by petterw
16/06/2015
An excellent biography of one of the greatest and most influential geniuses of our time, but at the same time a flawed individual who knew he was just that. The book reads like a thriller, and for me who have been a follower of Apple since the first Macintosh to today's iPad. I have learnt more from this biography than from the total collection of business books I have read the last couple of years, how to focus on product before profit, how to focus, how to empathise with your customers - and not the least to impute value in your products. Walter Isaacson has written a biography with a lot of respect, while at the same time avoiding adolation. The result is a naked portrait of a whole individual, one who has influenced my generation more than most.
Review by ElectricRay
16/06/2015
You're either an Apple Fan boy or you're not (I'm not, as a rule). I suspect many of the reviews of this book are, therefore, proxy votes not on Walter Isaacson's talent, but Steve Jobs'. Isaacson has, as the heart of his book, the Steve Jobs business philosophy. It is this, as much as jobs' unnatural flair for design, which separates him from his peers: most of the rest of the founding fathers and prophets of the tech revolution - Hewlett, Packard, Grove, Gates, Brin and Page, Fanning, Lessig, Zitrain - even Apple's own Wozniak - are united by the same insight: that modular components which put the decision in the hands of the user make for a tremendously powerful thing. This is the genuinely revolutionary, anarchic disposition which has shocked the political, corporate and social order over the last 20 years. It's a revolution of which Steve Jobs, and his beloved Apple, wanted no part.It is difficult to conceive of how different the world now is - hard to remember how rigid and immovable was the social architecture which the internet blew away (but which, if Zitrain is to be believed are regrouping forces). Flying in the face of the Web 2.0 dogma, Steve Jobs, virtually alone, believed in closed, tightly integrated, designed, controlled products. This remains a profoundly old-fashioned outlook for a tech company to adopt. Isaacson does an excellent job of highlighting a colossal *conceptual* chasm between Apple and the rest that most users simply won't credit. An iPhone is, philosophically a very different thing to an android smartphone. An iMac is a profoundly different thing to a PC. Your preference between them still comes down to an instinct: as between closed and open; tight and loose; predictable and flexible; probable and possible; centrally planned and laissez faire; design and fiat and even, melodramatically, God and evolution. These days most folks seem to prefer centrally planned, at any rate inasmuch as they buy Apple's articulation of it.Apple's articulation of it, of course, has been incredible. Even Bill Gates acknowledges that Apple has made some really cool stuff. (I'm hacking this review out on a dented Blackberry Curve, but coveting the iPad on the lap next to me. It irks me, but I really want one). And Steve Jobs accomplished this in a way that illustrates the validity of his model, however awkward that might be for the political orthodoxy. And he was a beastly bit of work while he was at it.Walter Isaacson gives the most sullen Googlista reason to respect Steve Jobs' achievement, and the most fawning mac apologist reason to abhor him. Jobs was a difficult individual with little of the grace and style of his products. He was prone to angry tirades, and was often instantly dismissive of what turned out to be excellent suggestions. He was similar with his family. Those who stayed close enough, personally or professionally, to understand how he ticked (notably Apple co-founder Steve Wozniak, wife Laurene Powell, chief Apple designer Jony Ive and Isaacson himself) learned to accommodate his foibles remarkably effectively, ignored the histrionics and did what they felt was the right thing anyway. Which, as Isaacson makes clear, is what Jobs expected anyway.This is a well told story about the singular vision of a remarkable man.Olly Buxton
Review by dannN
16/06/2015
A brilliant biography of a man who changed the lives of all of us and paved the way for our children to achieve more than we ever did, by entering the digital world. Steve Jobs was a genius, without question, but he must have left a legacy of people who hated him. Working and living with him must have been intolerable most of the time and I wonder if all of his achievements were worth the number of lives he destroyed with his unkindness.He will go down in history for future generations to remember, but it will be a long time before his cruelty is forgotten!
Review by andy475uk
16/06/2015
Put quite simply, this is one of the best biographies that I've read. A really interesting and inspiring insight into Apple and its history that's shot through with lots of humour, pathos, and nuggets of trivia. You won't come out of it loving everything about the man but that's something else that is a positive in the books favour - it doesn't try to gloss over the difficult elements of his personality.