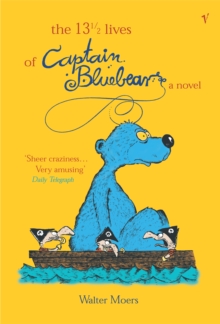 The 13.5 Lives of Captain Bluebear
Paperback
Description
A delightfully illustrated cult novel, literary satire and epic adventure. 'Within the first 15 pages I was carried away by the sheer craziness of it all.
Some Minipirates find a baby bear with blue fur inside a walnut shell floating on the ocean towards a giant whirlpool.
They rescue him and teach him about knots and waves, and that a good white lie is often considerably more exciting than the truth.
Then, when he outgrows their ship to such an extent that he is in danger of sinking it, they abandon him on an island with a bottle of seaweed juice and a loaf of seaweed bread.
Thus Bluebear comes to the end of his first life and embarks on his second.
By the end of the book, he has expended exactly half of his 27 lives.
Again and again, Moers confounds our expectations as the narrative twists and turns, travels backwards and forwards in time.
Part science fiction, part fairy tale, part myth, part epic, the book is a satire on all these genres and so constantly satirises itself.
Very amusing' - Daily Telegraph
Information
Format: Paperback
Pages: 704 pages
Publisher: Vintage Publishing
Publication Date: 01/11/2001
ISBN: 9780099285328
Free Home Delivery
on all orders
Pick up orders
from local bookshops
Reviews
Showing 1 - 5 of 5 reviews.
Review by nimoloth
16/06/2015
I finally finished this book! I've been reading it on and off for about a year now. It's not that it's bad, it just didn't grab my attention enough. Once you start reading it, it's very easy to continue, because it's very easy to read, but you don't have to get back to it to find out what happens next when you put it down. This is probably because it has no plot. It is the story of a blue bear in a fictional part of Earth (an island in the Atlantic called Zamonia, where the city Atlantis is), and tells off his adventures in life, each more absurd and ridiculous than the last. The author is constantly trying to outdo himself in far fetched tales, which gets a bit tiring after a while, although not enough that I gave up.The author is a comic book artist, and the book is full of illustrations (which I wasn't overly fond of) and the text is large and well spaced, so it's quick to read, although it looks huge. You'll like this if you like surreal fantasy with no plot.
Review by eesti23
16/06/2015
I only bought this book because of the cover and the fact that I had book vouchers to spend. The book was interesting and the pictures made the huge book not quite so huge. I'm glad I read this book but it was not as good or exciting as I had imagined and at many points I was left just feeling down right confused - but hey great cover! :o)
Review by bookwormie8katie
16/06/2015
This book was amazing. It actually took me into the world where Bluebear was and I felt suspense and horror for the fictional character at times. An awesomely, intelligently written book.
Review by russell.alynn
16/06/2015
Where to begin? How could one not love a story that involves, minipirates, carnivorous islands, waves that babble to one another, eternal tornadoes, and duels which require the participants to tell the most fantastic lies their imaginations can conjure? I absolutely LOVED this story. Bluebear's life (or 13.5 lives) is filled with so much action, comedy, and suspense that it's impossible to be bored. I almost wish Bluebear had divulged the events of his other 13.5 lives, but that would have made for a 1,400 page novel. While the story is excellent and gives the reader more than enough information to picture all the characters and landscapes of Zamonia, Walter Moers fills practically every other page with his hilarious illustrations; I felt like a child reading a picture book all over again. I think the most fantastic thing about this book is that, at times, Moers made me forget that Bluebear's tale was a fictional account. I plan to continue this series, and I know I will enjoy Moers other works of fiction as much as I enjoyed this one. If you like stories that make you laugh out loud and feel genuinely good this is the book for you.
Review by polarbear123
27/08/2015
I don't know why but I just enjoy moers' books , almost like a guilty pleasure. So much imagination a and fun and detail with characters it is hard not to like, even the nastier ones. There is so much going on here it is impossible to describe, just read and enjoy.