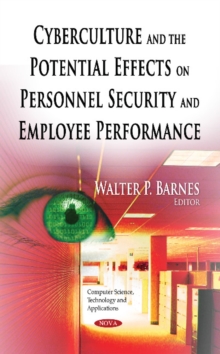 Cyberculture & the Potential Effects on Personnel Security & Employee Performance
Hardback
Description
Computers and related technologies, such as smart phones and video games, are now a common part of everyday life.
Many people spend a large portion of their waking hours using and socialising through these devices, forming what is known as a cyberculture.
Personnel security investigative and adjudicative standards were developed before these products were widely available; however, cyberculture bears relevance to personnel security due both to the presence of existing security issues and potential effects on psychological outcomes and workplace performance.
Although cyberculture has many beneficial effects, this book evaluates how participation can negatively affect personnel security and employee performance.
This book provides context, outlines presently actionable findings and strategies, highlights some questions that cannot yet be answered, and draws on outside research to guide future research.
It also presents an ethnographic analysis of a popular virtual social environment, Second Life, as the second part of a larger effort to study the impact of involvement in cyberculture on personnel security and safety outcomes.
Free Home Delivery
on all orders
Pick up orders
from local bookshops