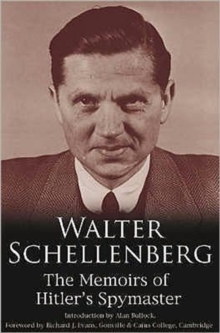 Walter Schellenberg : The Memoirs of Hitler's Spymaster
Hardback
Description
This is a chilling memoir by the head of Hitler's Foreign Intelligence Service.
This unique account of Hitler's corrupt regime illuminates more vividly than any other the deepening atmosphere of terror and unreality in which the Nazi leadership lived as the war progressed.
Schellenberg recounts with first-hand knowledge the motivations and machinations surrounding the Nazi Army's every move and offers vivid accounts of the countless incidents in which he played a major part including Heydrich's assassination, plans to kill Roosevelt and Stalin, and an attempt to kidnap the Duke of Windsor.
But this remarkable inside account is perhaps most memorable for its riveting portraits of Adolf Hitler, and the men whom Schellenberg calls, with stunning lack of irony, 'Hitler's willing executioners' - Heydrich, Himmler, Mueller, and Kaltenbrunner.
Information
Format: Hardback
Pages: 496 pages, 9 b&w photographs
Publisher: Carlton Books Ltd
Publication Date: 02/10/2006
ISBN: 9780233002002
Free Home Delivery
on all orders
Pick up orders
from local bookshops
Reviews
Showing 1 - 1 of 1 reviews.
Review by jose.pires
16/06/2015
Walter Schellenberg, the Counterintelligence Chief for Adolf Hitler during World War II, wrote his memoirs titled "The Labyrinth" recounting the counterintelligence (CI) operations of Germany during the height of the war. [He received one of the lightest sentences of any WWII war criminal, six years in prison. The mitigating factor in this light sentence was his attempts to help concentration camp prisoners in the latter part of the war.]In his memoirs, Mr. Schellenberg recounts some of the most interesting aspects of the German CI paradigm and the constant battles he waged with his superiors. While many of his tasks were odd by any standard, he also was in charge of one of the most advanced CI and counterespionage (CE) agencies of the time. In fact, in many ways, Schellenberg managed to blend many disparate intelligence disciplines and entities into a workable format. He recounts in his memoirs many of the failures of the Third Reich to recognize the importance of CI and CE and to integrate CI and CE into the operational planning process. One can deductively link the failures of the internal policies in regards to CI to the inability of Germany to effect real stability operations in the Eastern Theater, and consequently win the war.