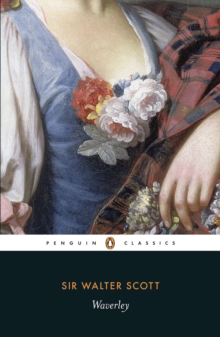 Description
The first romantic historical novel and international bestseller, Waverley (1814) tells the story of Edward Waverley, a naive, sensitive young man who is posted to Scotland with his regiment, and becomes caught between the clans of the Jacobite Rising and the forces of the Hanoverian regime.
He must decide whether he will follow the civilization he has always known, or be drawn into an older world of honour and loyalty - and must also choose between the quiet, constant Rose, and the passionate, principled Flora.
Information
Format: Paperback
Pages: 576 pages
Publisher: Penguin Books Ltd
Publication Date: 27/10/2011
Category: Classic fiction (pre c 1945)
ISBN: 9780140436600
Other Formats
EPUB from £2.99
PDF from £8.50
Hardback from £20.95
Paperback from £5.99
Free Home Delivery
on all orders
Pick up orders
from local bookshops
Reviews
Showing 1 - 1 of 1 reviews.
Review by GWTyson
16/06/2015
Walter Scott continues to amaze me. The fact that he invented the genre of "historical fiction" isn't even his greatest accomplishment. The fact is, he was a best-selling author in his time - so much so that his books provided him with two separate fortunes. He lost his first one in an ill-fated publishing venture that left him with crushing debts. However, he refused to declare bankruptsy and stiff his many creditors. Instead, he doubled down on his writing in order to sell even more books. At the time of his death, he'd repaid every penny that he owed.Although he is best known for his fiction, Scott also wrote books that pertained to Scottish folklore and, indeed, played in key role in preserving that portion of Scotland's cultural heritage. One of his works - an alleged transcription of a minister's account of his life with the fairies - is a classic of world folklore and is arguably the most celebrated work of folklore that came out of Scotland. (It's published today as "The Secret Commonwealth of Fairies" although that wasn't it's original title.) Another of his works is a treatise on the role of ghosts in Scottish criminal trials. (Scott himself was a lawyer.) Scott was also a poet who accomplished the astonishing fete (at least by today's standards) of writing a poem ("The Lady of the Lake") that became a world-wide best seller. (Note that she isn't the Lady of the Lake from the Arthurian legend.)"Waverly" was Scott's first novel and was literally an overnight success. It is typical of the novels that came after it: a romantic theme that is soaked in Scottish history; a strong plot; vivid characters; and a basic respect for human frailties and differences. It also showcases Scott's command of the English language - his descriptions of people and places can be very evocative. I might add that he uses a lot of big words that we don't use today even though most of them are still in the dictionary. (I suspect that, although literacy back then was less common than it is today, it probably attained a higher average level.)"Waverly" is a good place to begin if you want to test the waters with Scott. It is set against one of the most romantic and tragic periods of Scottish history - the Jacobite rebellion of 1745 that attempted to restore a Stuart king to the English throne. That "lost cause" resulted in the destruction of the native Scottish aristocracy and many of the highland clans. And if you get hooked on Scott, there's some very good news: he wrote enough great novels to keep you reading for years.