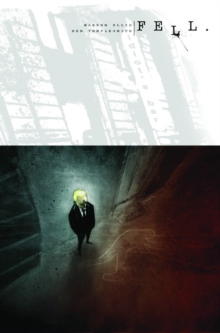 Fell Volume 1: Feral City
Paperback
Description
Detective Richard Fell is transferred over the bridge from the big city toSnowtown, a feral district whose police investigations department numbers threeand a half people (one detective has no legs).
Dumped in this collapsing urbantrashzone, Richard Fell is starting all over again.
In a place where nothingseems to make any sense, Fell clings to the one thing he knows to be true:everybody's hiding something.
Information
Format: Paperback
Pages: 128 pages
Publisher: Image Comics
Publication Date: 23/05/2007
Category: Comics and Graphic Novels
ISBN: 9781582406930
Free Home Delivery
on all orders
Pick up orders
from local bookshops
Reviews
Showing 1 - 5 of 9 reviews.
Previous | Next
Review by elvendido
16/06/2015
The best innovation in comics in quite some time - cheaper than normal cover price, lots of extra back matter, and so much story squeezed into 3x3 grids that the book is bursting at the seams.
Review by rrreese
16/06/2015
What can I say, this is really really good. The art is constrained to 3x3 panels, and is gorgeous. The story is dark and the art fits this mood very well.
Review by Cynara
16/06/2015
Warren Ellis, surely working himself into the grave one nine-panelled page at a time, has done it a-goddamn-gain. I'm not sure that Ellis is ever better than when writing at street level; the grime, the bleeding, the routine, the situations you might find in the news. His superheroes are usually delightful (see <i>Nextwave</i> and <i>Planetary</i>), but his dirty cities are better.In <i>Fell</i> you'll find humanity but not sweetness, empathy but not forgiveness. Rarely have I seen so much poverty in a graphic novel - and here it's not a "social issue", but the setting for every scene. There's also real horror here, and it left me unsettled.Of course, this being Ellis, it's also hilariously funny. If that's not a combination you're comfortable with, you should probably steer clear. At the heart of all this is the enigmatic protagonist, Detective Richard Fell. Disgraced, exiled to grotty Snowtown, Fell is a strangely mild hero: no cowboy, certainly no saint, but perhaps a good citizen. I was affected by his final assertion that, in the awful purgatory of Snowtown "none of you are nothing to me." He has secrets in his past that will no doubt be teased out in future instalments. Ben Templesmith's brilliant art is perfectly suited to the story, by turns gritty, glowing, grotesque, painterly, and very atmospheric. I will have nightmares for years about the way he draws teeth.
Review by zenobia158
16/06/2015
The stunning artwork of Ben Templesmith and the short story genius of Warren Ellis. I hope there will be another volume.
Review by collingsruth
16/06/2015
Creepy as fuck, diving into the depths of human sickness.