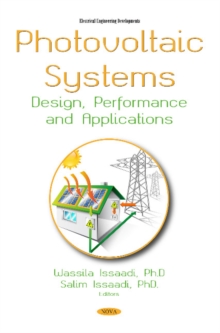 Photovoltaic Systems : Design, Performance and Applications
Hardback
Description
Presenting a complete guide for the planning, design and implementation of solar PV systems for photovoltaic (PV) applications, this book features analyses based on the authors own laboratory testing as well as their experiences in the field.
Incorporating the latest developments in smart-digital and control technologies into the design criteria of the photovoltaic (PV) system, this book will also focus on how to integrate newer smart design approaches and techniques for improving the efficiency, reliability and flexibility of the entire system (for example, powered mobile robotics).
Although the design and implementation of several applications based on new proposed techniques of photovoltaic PV system were the first goal for elaborating in this book, many theoretical surveys which involve the trends, photovoltaic fabrications, management, distributed generation, economical aspects, feasibility analysis, reliability, performance and integration of solar photovoltaic sources through smart controllers for managing the load intelligently and effectively is presented as a key case study.
Maximizing reader insights into the performance of different components of solar photovoltaic (PV) systems under different operating conditions, the book will be of interest to graduate students, researchers, PV designers, planners, and practitioners working in the area of solar PV design, implementation and assessment.
Information
Format: Hardback
Pages: 286 pages
Publisher: Nova Science Publishers Inc
Publication Date: 29/08/2018
Category: Electrical engineering
ISBN: 9781536136463