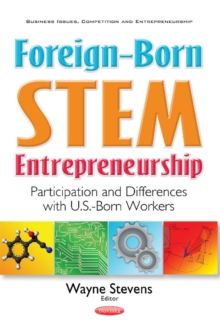 Foreign-Born STEM Entrepreneurship : Participation & Differences with U.S.-Born Workers
Paperback / softback
Description
The STEM fields -- science, technology, engineering and mathematics -- are the source of tangible innovations in products and processes that help to spur economic growth.
Though many of these advances may occur in established organizations, radical innovation has long been associated with entrepreneurial ventures.
Several previous studies have shown that high-growth, high-tech STEM-based businesses in the United States are disproportionately founded by foreign-born scientists and engineers.
However, recent data also suggest that immigrants rate of participation in U.S. entrepreneurship is slowing. Policies that support nascent immigrant STEM entrepreneurs may also help to improve U.S. employment rates, economic productivity, and career satisfaction among new Americans and legal permanent residents.
This book investigates several explanations for differences in STEM entrepreneurship between college-educated native-born and foreign-born workers.
It also explores reasons for differences in entrepreneurial participation among foreign-born workers.
Information
Format: Paperback / softback
Pages: 110 pages
Publisher: Nova Science Publishers Inc
Publication Date: 01/12/2016
Category: Ethnic studies
ISBN: 9781536102703