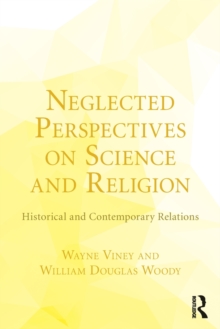 Neglected Perspectives on Science and Religion : Historical and Contemporary Relations
Paperback / softback
Description
Neglected Perspectives on Science and Religion explores historical and contemporary relations between science and religion, providing new perspectives on familiar topics such as evolution and the Galileo affair.
The book also explores common differences in science and religion with respect to their various treatments of doubt, curiosity, and the methods by which truth claims are assessed.
The book includes discussions of religious and scientific treatments of the origins of males and females, evolving views of sex and gender, and contemporary tensions about topics such as same-sex marriage.
Viney and Woody also include a chapter exploring the effects of social science research on religious topics such as prayer, prejudice, and violence.
The rise of social sciences such as psychology, sociology, and anthropology has resulted in discoveries that contribute to new ways of thinking about the relations of science and religion.
This book is ideal for graduate and upper-level undergraduate students, as well as anyone interested in science and religion.
Information
Format: Paperback / softback
Pages: 260 pages
Publisher: Taylor & Francis Ltd
Publication Date: 11/04/2017
Category: Philosophy
ISBN: 9781138284760