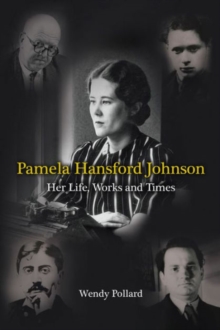 Pamela Hansford Johnson : Her Life, Work and Times
Hardback
Description
This first biography of Pamela Hansford Johnson (1912-1981) has been written with the full co-operation of her three children, who allowed Wendy Pollard access to previously unexamined diaries, letters and much other material, illuminating their mother's eventful and often entertaining life.
Pamela Hansford Johnson's achievements were all the more remarkable because of her lack of formal education after the age of 16.
With no literary contacts to ease her path, she nevertheless quickly established herself first as a poet, then as a prolific short story writer, and, after the publication of her first novel, she was able to support herself and her mother on her income from writing and reviewing. In addition to their aesthetic worth, her novels are remarkable for the portraits they paint of almost forgotten, yet comparatively recent, worlds.
Her 1930s novels are not set in the privileged surroundings featured in the novels of the majority of her contemporaries, but in the down-to-earth milieu of lower middle-class Londoners.
Her novels of the 1940s and 1950s graphically portray the period of social adjustment during, and immediately after, the Second World War.Later, several of her novels focused on moral dilemmas, and she also varied her range with a group of well-received satirical novels. She frequently broadcast on the Third Programme, and was a regular panel member on the acclaimed radio programme, 'The Critics' and BBC TV's 'The Brains Trust'.
Her non-fiction works include literary monographs on Thomas Wolfe and Ivy Compton-Burnett, a published series of broadcasts entitled 'Six Proust Reconstructions', and On Iniquity, a book-length meditation on the Moors Murder Trial, on which she reported for the Sunday Telegraph.
Her private life was full of incident, the earliest being her youthful romance with Dylan Thomas.
Her first marriage was to an Australian journalist, and she subsequently married the novelist and scientist, C.P. (later Lord) Snow. The Snows formed a celebrated literary partnership, travelling widely, and being feted in academic circles in the USA and the USSR as well as in the UK.
The biography also recounts the many intrigues in literary circles in the post-war years when the Snows later became targets for the emerging satire movement.
Information
Format: Hardback
Pages: 512 pages, photos, bibliography and index
Publisher: Shepheard-Walwyn (Publishers) Ltd
Publication Date: 01/10/2014
Category: Biography: literary
ISBN: 9780856832987
Free Home Delivery
on all orders
Pick up orders
from local bookshops
Also by Wendy Pollard