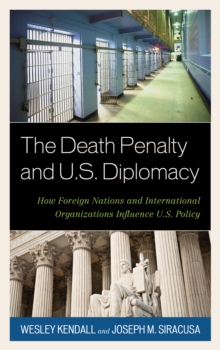 The Death Penalty and U.S. Diplomacy : How Foreign Nations and International Organizations Influence U.S. Policy
Hardback
Description
This unique book examines how U.S. domestic policy regarding the death penalty has been influenced by international pressures, in particular, by foreign nations and international organizations.
International pressure has mounted against America's use of the death penalty, straining diplomatic ties.
U.S. policies that endorse the execution of juveniles, the mentally handicapped, and disadvantaged foreign nationals have been recognized by allied nations and international organizations as human rights abuses and violation of international law.
Further, organizations such as the United Nations and Amnesty International have issued scathing reports revealing racial bias and fundamental procedural flaws in almost every phase of the judicial process in capital cases.
International pressures directed at governmental entities, in particular specific states such as Texas, can have a profound impact on governmental operational efficiency and public opinion and effectively render capital punishment cost-prohibitive from a public policy standpoint. The Death Penalty and U.S. Diplomacy analyzes the institutional response to specific forms of foreign intervention and influence such as consular intervention, international litigation, and extradition negotiation.
This is documented through case studies such as how a judge in Texas v.
Green turned to a comparative Delaware case that relied on the Vienna Convention to remove the death penalty as possible punishment, and how Mexico pressured the White House in two separate cases. By demonstrating that foreign actors have done much to constrain the United States to abandon its policies of executing foreigners, as well as its own citizens, the book explores the foreign dimensions of the U.S. death penalty while advancing the debate surrounding the viability of this controversial policy.
Free Home Delivery
on all orders
Pick up orders
from local bookshops