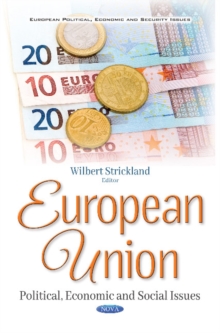 European Union : Political, Economic & Social Issues
Paperback / softback
Description
In Europe, where the financial crisis was transformed into national debt crises in several countries, the current phase of the denial cycle marked by an official policy approach predicated on the assumption that normal restored through a mix of austerity, privatisation and less state involvement came through (anti-Keynes).
The other view is this. Governmental investments and financial decision-making to regulate the effective demand in national economies is based on the basic principles introduced by John Maynard Keynes in his General Theory of Employment, Interest and Money (1936), The solution of the temporary crisis of the democratic capitalism might be linked to Keynes by his successors the neo-Keynesians.
However, the representative democracy has become weak and fragmented, and under control of international powerful multinationals.
The citizens not any longer look upon their national government as their representatives but as representatives for interest of foreign states and international organisations.
Poor public politics and policies are what come out of it.
The first chapter examines the European Union's capitalism in crisis.
The second chapter of this book presents the weakness of the EU lying in its own foundation principals; its developments and its incapacity for transforming from a successful internal peace system into a reliable world power.
The third chapter analyses the case-law of the EU on measures to fight online piracy so as to shed light on whether the Court of Justice of the European Union struck a fair balance between intellectual property and human rights.
Also, the case-law of the European Court of Human Rights is examined.
The last chapter analyses Spains internal conflict over the breakaway intentions of a part of Catalonian society, going through different influential aspects such as history, ethnicity, language and culture; economy, the structure of the Spanish central government, the role of European Union and several other milestones in the main claims of the supporters of the independence for Catalonia.
Information
Format: Paperback / softback
Pages: 97 pages
Publisher: Nova Science Publishers Inc
Publication Date: 01/07/2017
Category: Social issues & processes
ISBN: 9781536123593
Free Home Delivery
on all orders
Pick up orders
from local bookshops