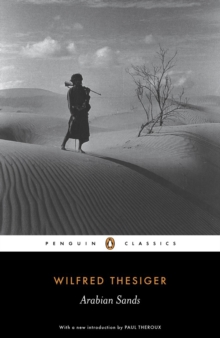 Description
In the spirit of T.E. Lawrence, Wilfred Thesiger spent five years wandering the deserts of Arabia, producing Arabian Sands, 'a memorial to a vanished past, a tribute to a once magnificent people'.
The Penguin Classics edition includes an introduction by Rory Stewart.Wilfred Thesiger, repulsed by what he saw as the softness and rigidity of Western life - 'the machines, the calling cards, the meticulously aligned streets' - spent years exploring in and around the vast, waterless desert that is the 'Empty Quarter' of Arabia.
Travelling amongst the Bedu people, he experienced their everyday challenges of hunger and thirst, the trials of long marches beneath the relentless sun, the bitterly cold nights and the constant danger of death if it was discovered he was a Christian 'infidel'.
He was the first European to visit most of the region, and just before he left the area the process that would change it forever had begun - the discovery of oil.This edition contains an introduction by Rory Stewart discussing the dangers of Thesiger's travels, his unconventional personality and his insights into the Bedouin way of life.Sir Wilfred Patrick Thesiger (1910-2003) was a British travel writer born in Addis Ababa in Abyssinia (now Ethiopia).
Thesiger is best known for two travel books: Arabian Sands (1959), which recounts his travels in the Empty Quarter of Arabia between 1945 and 1950 and describes the vanishing way of life of the Bedouins, and The Marsh Arabs (1964), an account of the traditional peoples who lived in the marshlands of southern Iraq.If you enjoyed Arabian Sands, you might like T.E.
Lawrence's Seven Pillars of Wisdom, also available in Penguin Modern Classics'Thesiger is perhaps the last, and certainly one of the greatest, of the British travellers among the Arabs'Sunday Times'Following worthily in the tradition of Burton, Lawrence, Philby and Thomas, it is, very likely, the book about Arabia to end all books about Arabia'Daily Telegraph
Information
Format: Paperback
Pages: 368 pages
Publisher: Penguin Books Ltd
Publication Date: 07/07/2007
Category: Travel writing
ISBN: 9780141442075
Free Home Delivery
on all orders
Pick up orders
from local bookshops
Reviews
Showing 1 - 2 of 2 reviews.
Review by thorold
16/06/2015
A superb bit of travel writing: it's a surprise to discover from Rory Stewart's introduction in the Penguin Classics edition that Thesiger only decided to write the book as an afterthought, ten years after giving up his attempts to travel in the south of the Arabian peninsula. He certainly goes about it very much in his own way: although he's travelling in places where few or no Europeans have been before, he tells us relatively little about the landscape, and practically nothing about any man-made structures. What he's interested in, to an even greater extent than T.E. Lawrence, are the people who live in the desert, the <i>Bedu</I> (to use Thesiger's preferred term). He rambles on fascinatingly and delightfully for page after page about their politics, their everyday conversation, what they wear, how they eat, how their economy works, the complex ethics of life in a tribal society without central authority, and so on. It's a romantic interest, in more ways than one. Although the two stunningly beautiful teenage tribesmen who accompany him get the only really lyrical passages of description in the book and feature in some rather self-indulgent photographs, Thesiger does make it pretty clear that, whatever Lawrence may have found (according to Thesiger, Lawrence's companions were decadent town-dwellers, not real desert people), the Bedu would not have put up with any funny business. I think we can believe that it was all strictly platonic: it's clear that what he really loves (even though he moans about it frequently) is the way the desert forces a group of men into total intimacy. It's beautifully done, not kitschy at all: we get to know all of Thesiger's companions as real individuals with real personalities, histories, families, and so on, in a way that the self-obsessed Lawrence doesn't quite manage. Thesiger's well aware what a nuisance he has been to the people who helped him on his travels. By the end of the book it's becoming clear that he's too much of a nuisance: his attempt to get into the mountains of Oman almost starts a civil war, and he realises that he'll have to stop coming to Arabia.
Review by Pandaros
16/06/2015
While this was an entertaining read and provided an excellent insight into Bedouin culture it remains in the shadow of Lawrence's Seven Pillars. In fact I believe that to be the case why Thesiger wasn't so inclined to publish it in the first place and faced with the fact that his thirst for exploration and part of his reason for taking up life with the Bedouin was because of Lawrence's experiences - which cannot be surpassed in terms of English literature in the Arab world. Thesiger's influence is made more clear in his portrayal of himself with matched closely the modesty Lawrence had and the poignancy with which he wrote of the Bedu. Thesiger certainly wasn't a modest man. But in short it is excellent reading.