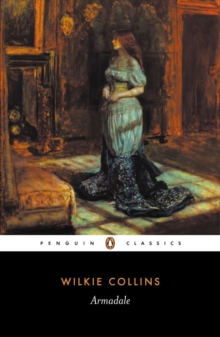 Description
An innovative novel featuring an astonishingly wicked female villain, Wilkie Collins's Armadale was regarded by T.S.
Eliot as 'the best of [his] romances'. This Penguin Classics edition is edited with an introduction and notes by John Sutherland. When the elderly Allan Armadale makes a terrible confession on his death-bed, he has little idea of the repercussions to come, for the secret he reveals involves the mysterious Lydia Gwilt: flame-haired temptress, bigamist, laudanum addict and husband-poisoner.
Her malicious intrigues fuel the plot of this gripping melodrama: a tale of confused identities, inherited curses, romantic rivalries, espionage, money - and murder.
The character of Lydia Gwilt horrified contemporary critics, with one reviewer describing her as 'One of the most hardened female villains whose devices and desires have ever blackened fiction'.
She remains among the most enigmatic and fascinating women in nineteenth-century literature and the dark heart of this most sensational of Victorian 'sensation novels'. John Sutherland's introduction illustrated how Wilkie Collins drew on scandalous newspaper headlines and on new technology particularly the penny post and the telegraph - to lend extra pace and veracity to his tale.
This edition also contains notes, further reading and an appendix on stage dramatisations of Armadale. Wilkie Collins (1824-1889) was born in London in 1824, the eldest son of the landscape painter William Collins.
In 1846 he was entered to read for the bar at Lincoln's Inn, where he gained the knowledge that was to give him much of the material for his writing.
From the early 1850s he was a friend of Charles Dickens, who produced and acted in two melodramas written by Collins, The Lighthouse and The Frozen Deep.
Of his novels, Collins is best remembered for The Woman in White (1859), No Name (1862), Armadale (1866) and The Moonstone (1868). If you enjoyed Armadale, you might like Collins's No Name, also available in Penguin Classics.
Information
Format: Paperback
Pages: 752 pages
Publisher: Penguin Books Ltd
Publication Date: 26/01/1995
Category: Classic fiction (pre c 1945)
ISBN: 9780140434118
Other Formats
Paperback from £8.35
Hardback from £35.35
EPUB from £1.94
Paperback / softback from £26.95
Free Home Delivery
on all orders
Pick up orders
from local bookshops
Reviews
Showing 1 - 5 of 9 reviews.
Previous | Next
Review by Wanderlust_Lost
16/06/2015
Wikie Collin's "Armadale" is a story of fate, folly, and le femme fatale. This Victorian sensation novel follows the lives of distant cousins Allan Armadale and Allan Armadale (alias Ozias Midwinter) the sons of two other Allan Armadales, one the victim of the other's murderous rage over the love of a woman. When Allan Armadale Sr. (the murderer) dies he writes, on his deathbed, a confession to his son (Midwinter) about the terrible crime he visited on his namesake and the horrible fate that he fears will befall his son should he and the son of the other Armadale ever meet.21 years after this terrible confession was put to paper Midwinter and Armadale the younger meet and become best friends only for Midwinter to then receive his father's letter and learn the horrible truth of their families' pasts. Frightened that the sins of the father should be visited on the son and that he, Midwinter, should be the unwitting driving force behind the demise of the second Armadale Midwinter enters on a path of tortured self-denial, unaware that the very fear of fulfilling this prophecy is driving him closer and closer to its culmination.Meanwhile the flame-haired temptress Lydia Gwilt arrives on the scene. Complicit in the scandal that robbed Midwinter's father of his betrothed and ended in the death of Armadale's father Miss Gwilt feels that the Armadale family owes her a debt for the years she suffered in privation and disgrace. But Miss Gwilt's past dishonour is nobody's fault but her own, and her own evil nature, driven to murder once before, is now bent on murder again in order to gain the Armadale fortune. Oblivious to Miss Gwilt's murderous designs on his friend Midwinter falls hopelessly in love with her. Will this love for the very woman who is plotting to kill his friend ultimately result in the fulfillment of the prophecy and leave Midwinter responsbile for Armadale's death? Or will his love for Miss Gwilt somehow save his best friend from her terrible claws?This novel is, perhaps, Collins's best. Though not as well known as "The Woman in White" and lacking a terrific Fosco-like villain, the intricate plot, and the tragic heroine/villainess make it more believable and more moving. This is a deeply saddening book, but also a triumph in literary style. For fans of Collins or Victorian literatuer in general I could not recommend this book more highly.
Review by CareALotsClouds
16/06/2015
No, this is not as good as 'The Woman In White' or 'The Moonstone'. The pace and the style of writing is really quite different (Collins was immensely ill whilst writing this book). There is something lacking in this novel that the other three big novels of Collins had plenty of. Armadale is not as mysterious as the other novels. The only real secret kept from the reader until the end is the truth of Lydia Gwilt's past. This secret of her past is not something that I craved or cared that much about, all I cared about is what she was going to do next which she always clearly spells out what she is going to do, pages or chapters before she does it. All this said, it is still a fantastic read. It took me a long time to get through because this novel seems to be split in two, and the first part is quite tedious. Midwinter is an admirable character, but Mr Armadale is extremely annoying, and Midwinter, in turn, for caring so much for him is quite annoying. As a reader I was really willing Miss Gwilt on, and agreed with her on every count of Allan Armadale's character. The pair that consists of Armadale and Midwinter somewhat mirrors the pair of Marian Halcombe and Laura Fairlie from 'The Woman In White' where one is incredibly strong and the other is weak, needing constant care and attention from the stronger of the pair. The first part of the novel focuses on their relationship and foreshadowing dreams. Even Midwinter's character becomes a bore when he obsesses over fate and destiny. The second half the novel consists mainly of Lydia Gwilt's point of view whilst being introduced to new characters way of thinking, such as Mr Bashwood and Mrs Milroy. The novel picks up here and becomes a lot more interesting. There are a few instances when we think we know where the story is going, but then takes a different way completely. She gains our sympathy as she tries as hard as she can to be moral and honest, only to find her efforts useless and forced back into her old ways. This is worth a read, and some think this book is better than the more popular TWIW and TM, but I don't think so. The pacing is uneven, and some things are just too overly detailed and obvious. I was oddly dissatisfied when I had finished reading it though the character of Lydia Gwilt is a genius one. I'd advise to give this book a go, and to hold out until Lydia arrives on to the scene. On a more thematic note, there is a lot in this novel (as with his other novels) about identity, the role of women, technology, geography, money and alienation. And where would a classic Collins novel be without opium?!
Review by mcgooglykins
16/06/2015
I suspect Collins was high when he wrote this. Four characters, one name. Long, convoluted, dragging, and in the end, a fairly pointless story.
Review by tibbysbrain
16/06/2015
In the characteristic Collins style fate and the hint of the supernatural bring the two heroes together in this story. Ozias Midwinter is a rambling gypsy. Allen Armadale is a good natured man raised by his mother in a small fishing village. When the two meet Aramadale is quite taken with Ozias and insists on cultivating a friendship. Midwinter has a secret identity that he feels should prevent them from being friends, but his own devotion to Aramadale makes it difficult for him to resist. Ozias knows that at some point they will need to part to prevent the ruin of Aramadale that would come at the revelation of Ozias' secret. Collins also highlights the inequality of men and women's places in the Victorian era. The main female figure is a widow tainted by her past and no proper way of supporting herself. Like Becky Sharpe of Vanity Fair, she wishes to have a better life and must sacrifice her morals in order to do so. Her plan is thrown for a loop when she falls in love with Midwinter and calls into question her own behavior. Unfortunately, old habits die hard and the scars from her earlier life prove too deep to allow for a complete transformation. Unlike Becky, however, she finally comes to the realization that her love for Midwinter is far more important than her own life however worthless it may feel and dies in his place. This is quite the piece of fiction and Collins proves to be very forward thinking when thrusting the spotlight onto the problems Victorian society created for many of its women.
Review by zolasdisciple
16/06/2015
This is book is amazing. Its faced paced almost supernatural action is spellbinding. Wilkie colins solidified his place as one of the best riters ever with his consistent smooth plots and engaging characters.Perfection.