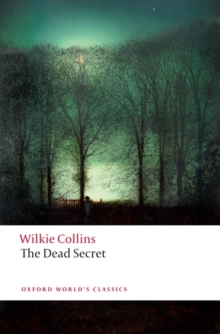 The Dead Secret
Paperback
Description
"Oh, my God! to think of that kind-hearted, lovely young woman, who brings happiness with her wherever she goes, bringing terror to me!
Terror when her pitying eyes look at me; terror when her kind voice speaks to me; terror when her tender hand touches mind!" Porthgenna Tower on the remote western Cornish coast.
Moments before her death, Mrs Treverton dictates a secret to her maid, never to be passed to her husband as she had instructed.
Fifteen years later, when Mrs Treverton's daughter, Rosamond, returns to Porthgenna with her blind husband, Leonard, she is intrigued by the strange and seemingly disturbed Mrs Jazeph's warning not to enter the Myrtle Room in the ruined north wing.
Strong-minded and ingenious, Rosamond's determined detective work uncovers shocking and unsettling truths beyond all expectation.
A mystery of unrelenting suspense and psychologically penetrating characters, The Dead Secret explores the relationship between a fallen woman, her illegitimate daughter, and buried secrets in a superb blend of romance and Gothic drama. Wilkie Collins's fifth novel, The Dead Secret anticipates the themes of his next novel, The Woman in White in its treatment of mental illness, disguise and deception, and the dispossession of lost identity.
Yet a series of comic figures offsets the tension, from the dyspeptic Mr Phippen to the perpetually smiling governess, Miss Sturch.
Displaying the talent and energy which made Collins the most popular novelist of the 1860s, The Dead Secret represents a crucial phase in Collins's rise as a mystery writer, and was his first full-length novel written specifically for serialization.
ABOUT THE SERIES: For over 100 years Oxford World's Classics has made available the widest range of literature from around the globe.
Each affordable volume reflects Oxford's commitment to scholarship, providing the most accurate text plus a wealth of other valuable features, including expert introductions by leading authorities, helpful notes to clarify the text, up-to-date bibliographies for further study, and much more.
Information
Format: Paperback
Pages: 416 pages
Publisher: Oxford University Press
Publication Date: 10/07/2008
Category: Classic fiction (pre c 1945)
ISBN: 9780199536719
Other Formats
Hardback from £23.15
EPUB from £1.07
Paperback from £16.89
Free Home Delivery
on all orders
Pick up orders
from local bookshops
Reviews
Showing 1 - 2 of 2 reviews.
Review by eleanor_eader
16/06/2015
Confession time: <i>The Dead Secret</i> engaged me from beginning to end, but I'm left with the impression that I shouldn't have enjoyed this as much as I did… it lacked the obvious intrigue of <i>The Moonstone</i> and the sensational fun of <i>The Woman in White</i>, there was altogether too much exposition (my pity towards Mr. Frankland was engendered less by his blindness, than for having to listen to his wife utter every thought that went through her head), and Sarah Leeson's vacillating had me stifling the unchristian urge to shake her. And then, when things start to untangle themselves, Wilkie Collins whips up an accompanying maelstrom of sentimentality that would leave any cynical romance writer dumbstruck with awe. Sentimentality which I revelled in, by the way, I'm not going to pretend I didn't. But it was so unsubtle as to be mildly hilarious.And yet… for some reason I was as nosey as Rosamond to get to the bottom of the mystery in the Myrtle Room, and as terrified as Sarah Leeson lest Rosamond manage to discover the letter – and the secret – hidden therein. <i>Because</i> of the slow pace of the first two thirds of the book, the tension gathers like an ominous bank of black cloud. I confess I have no idea how Collins provoked this intense interest in me, except that, as usual, his characters were deliciously drawn and engaging, and, like Rosamond, if you told me to stay away from a mystery, I'd be all over it like dust on bookshelves, and completely fail to perceive the inevitable consequences of digging up old family secrets!Should I be afraid to admit that I liked <i>The Dead Secret?</i> I'm never sure which of Collins' books are the ones I'm <i>supposed</i> to be reading (i.e. the ones for which he is read by people who know these things in advance, I guess there was a memo at some point…). I'd better just 'fess up and admit I liked it. And even if I hadn't, I would have rated it at least four stars for Andrew Treverton's final word on the subject:<i>Tell those two superhuman people…that I may give up my travels in disgust when they least expect it; and that I may come and look at them again – I don't personally care about either of them – but I should like to get one satisfactory sensation more out of the lamentable spectacle of humanity before I die.</i>Marvellous.
Review by startingover
16/06/2015
Wilkie Collins is one of my favourite Victorian novelists, and I think it a pity that only his two major novels (The Woman in White and The Moonstone) are widely read today, as even his minor novels have much to offer.The novel begins with a former actress, Mrs Treverton, summoning her maid Sarah Lesson to her side. Mrs Treverton, a married woman with a young daughter, Rosamond, is on her deathbed. She charges Sarah to reveal to her husband the secret they have kept between them. Timid Sarah, seeing Mr Treverton's devastation on learning of his wife's death, finds herself unable to reveal the secret to him. But neither does she have the courage to destroy the piece of paper, signed by herself and Mrs Treverton, on which the secret is set down. Instead, she hides the paper in an unused room in the Trevertons' large house, Porthgenna, and flees.The story resumes fifteen years later. Rosamond has recently married and is the new owner of Porthgenna. But the buried secret is in danger of being revealed, the situation complicated by another claimant to Porthgenna, Rosamond's misanthropic uncle Andrew Treverton. He and his equally anti-social servant, Shrowl, provide the comic relief of the story.It is fair to say that this is far from being Collins' best novel, though it rehearses some of the themes and ideas to be found in the later novel, The Woman in White. Sarah Leeson is a sympathetic and well-drawn character, but the capricious Rosamond is hard to like. There are no staggering plot twists, and the reader knows what the big secret is almost from the start. Nevertheless, this is a fun novel and recommended to fans of Victorian literature.[September 2008]
Also in the Oxford World's Classics series | View all