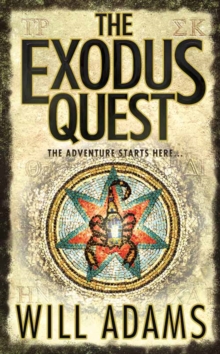 The Exodus Quest
Paperback
Description
Fact collides with fiction in Will Adams second pulse-pounding adventure featuring the enigmatic Daniel Knox - hero of The Alexander CipherFact collides with fiction in Will Adams second pulse-pounding adventure featuring the enigmatic Daniel Knox.
On the trail of a Dead Sea Scroll, Knox stumbles across an ancient temple being surreptitiously excavated by evangelical Christians outside Alexandria.
A chase ends in tragedy with the death of Alexandria's senior archaeologist, and Knox the chief suspect.
Meanwhile, Knox's partner Gaille Bonnard is baby-sitting a television crew around the ancient city of Amarna, home of the multiple mysteries of Pharaoh Akhenaten.
Kidnapped by rogue soldiers, her time fast running out, she sends Knox a message hidden in a hostage video, pleading with him to come to her rescue.
But Knox has problems of his own, under arrest on suspicion of murder, locked in a police cell half a country away. And the only way for him to find and save her is to crack one of the great unsolved mysteries of the ancient world.
Information
Format: Paperback
Pages: 560 pages
Publisher: HarperCollins Publishers
Publication Date: 03/11/2008
Category: Adventure
ISBN: 9780007250882
Free Home Delivery
on all orders
Pick up orders
from local bookshops
Reviews
Showing 1 - 3 of 3 reviews.
Review by kashicat
16/06/2015
If you love archaeology as well as a great mystery and a lot of suspenseful intrigue, "The Exodus Quest" by Will Adams is the book for you. This is in fact Adams' second novel, and the second featuring Egyptologist Daniel Knox.After gaining fame for discovering the tomb and body of Alexander the Great (in the first book, "The Alexander Cipher"), Knox accidentally runs afoul of a quest to discover the true nature of the biblical Exodus of the Jews from Egypt. Before he's done, he and others have discovered possible links between the monotheistic Pharaoh Akhenaten, the Essene and Pythagorean sects, and Moses — all of which could potentially blow biblical history and assumptions to smithereens.This book has everything: a fanatical Christian preacher eager to "do the Lord's work," even if it involves murder and the destruction of inconvenient historical evidence; a narcissistic documentary producer advancing another wild historical theory that may have more truth to it than anyone guesses; corrupt cops trying to get rich by tomb-robbing; and a wild, dangerous race from ancient site to ancient document to ancient site, as Knox tries to figure out what's going on before he and his partner Gaille Bonnard get killed.The exciting action begins quite early, and from that point on is almost non-stop. The very style of the book keeps it constantly fresh, as Adams switches from scene to scene and moves between characters at a fast pace.Occasionally this constant switching can be a bit of a problem, though. There are so many different cops from different jurisdictions that once in a while you find yourself trying to remember who this or that police officer is, and whether this is one of the bad ones or the good ones. And you know, as you're coming to the end of each scene, that it's likely to leave you with another mini cliff-hanger, which can get old after a while. Nor is it always easy to remember all the tidbits of archaeological information that are revealed from scene to scene.But those problems are relatively minor. As you read, you are swept along by both the intriguing archaeological information and the action.I've tried to find information about the author, Will Adams, beyond the very brief blurb on his official website, but I haven't been successful so far. My main reason was to try to discover whether he knows enough real archaeology to write it with authority. In the acknowledgements of the novel, he does mention certain books that support the theory and events he writes about, but that's the extent of it.In the end, that doesn't really matter. The theories seem plausible within the narrative itself, and I loved that ancient history and archaeology — two of my favourite things — were combined so well into such a fast-paced, exciting book.Now I need to read the first novel! And I hope to goodness Mr. Adams is working on another one.
Review by Speesh
16/06/2015
This could have been much a much better book. But isn't because it really seems like it can't decide what it actually wants to be. An interesting, surprising ancient revelation. or an action story. Unfortunately, it ends up feeling like it falls in an unenthusiastic heap somewhere between the two.<br/><br/>The idea that Akenaten was the beginner of an idea of Monotheism (the doctrine or belief that there is one god), that possibly lead to the Jewish and the Christian 'God', isn't a new theory. But it is probably one that would surprise a lot of the readers of this type of Historical Mystery and Adventure novel. And so one that could, if handled correctly, lead to some Dan Brown/'The Da Vinci Code'-type excitement, even notoriety amongst a wider public. But by losing the premis amongst a convoluted tale of chases, corrupt Egyptian Police, mad US preachers, old girlfriends, narcissistic TV Archaeologists and their assistants and rain, lots of rain, it really doesn't become what it could have been. But, having read the previous one (?) involving Will Adams' archaeological hero 'Daniel Cox', the Alexander Cypher back in June, I really think that part of the problem is that the author either isn't interested in writing a better book, or isn't able to. I can't decide.<br/><br/>Then, as with a lot of these type of adventure stories, he's also fallen into the trap of putting quotation marks around his theory. Of having his characters have long 'conversations' where they regurgitate all the facts the author wants the reader to get up to speed on, to enable the premis of the book/story to move along. Where characters being chased by all sorts of officialdom or underworld hoodlums, run through the streets dodging bullets while also running through what sounds like the presentation of a doctorate thesis. Really, especially in the early sections, the number of lectures they give each other, masquerading as conversations, is unbelievable. Not to say extremely dull if you're supposed to be reading, or supposed to be writing, an adventure story.<br/><br/>And, in a story where they generally accidentally stumble upon illicit archaeological digs and fall over artifacts in obscure Egyptian back-street markets, isn't it lucky that - for instance and amongst many other examples - that Knox had; "...wasted countless glorious summer afternoons in a forlorn effort to master Syriac by studying that particular text..." Or his possibly/possibly not girlfriend 'Gaille' had; "...worked on her father's excavation in Amarna for two seasons while still a teenager, and who'd studied the Eighteenth Dynasty for three years at the Sorbonne." Handy. It often feels like the girl behind the counter in the coffee shop could probably interject with the name of the otherwise never heard of outside the British Museum's Ancient Greece section obscure Greek philosopher/writer who may have mentioned a fact that proves the unbelievable, improbable and otherwise generally thought to be unprovable.<br/><br/>Then with the chase and adventure part of the story, another irritation came forward. Clearly having read and misunderstood too many Robert Ludlum books, he tries to keep too many (not all that interesting) balls in the air. Switching between different locations and different aspects of the action in the hope of simulating the frenetic atmosphere he's wanting to project. If not handled correctly, it just gives the whole thing discontinuity. And this isn't handled correctly or with any great enthusiasm. It just ends up feeling too broken up and frustratingly disjointed.<br/><br/>It was good, but not great. It was exciting in parts, but not in enough parts. It was interesting in premis, but unenthusiastically handled. And that lack of enthusiasm spread to this reader as well. Should I read another of his? I can't decide.
Review by rwilliab
27/08/2015
Entertaining for the most part. While other reviewers found Adams' style of writing short chapters which are even further subdivided into vignettes that switch constantly between characters and situations, I found it irritating. I would have appreciated sticking with one set of people for a little longer than Adams did.<br/><br/>I also found the climax and resolution severely lacking; it may be that I just wasn't invested in the characters, or maybe that it was rushed. I don't know.<br/><br/>And finally, as a religious person myself, I found the cavalier dismissal of the Bible as a collection of folktales by most of the characters (other than the arguably maniacal and definitely homicidal reverend who serves as a primary antagonist) rather offensive. While I am open to other's opinions and recognize that the Bible is not primarily a historical record, I do believe it to be the word of God and that the events recorded therein really happened.